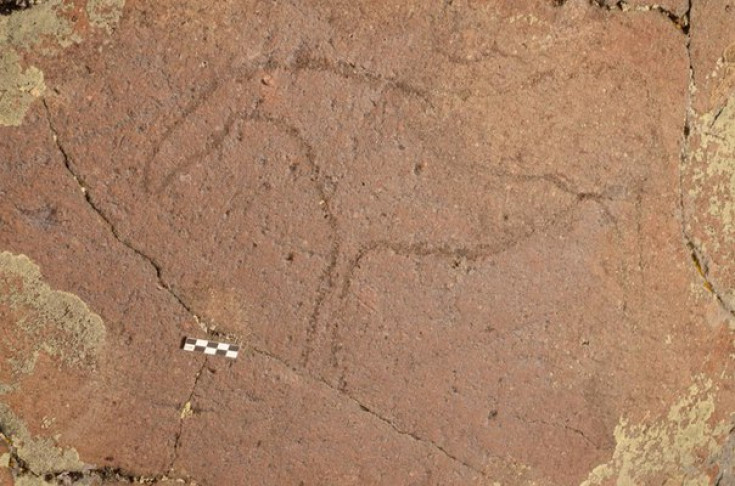 Palaeolithic petroglyphs dating back 10,000 years have been discovered on the Ukok Plateau – the oldest example of rock art ever to be discovered in Siberia.
The petroglyphs were discovered by scientists from Novosibirsk State University (NSU), together with teams from the University of Bordeaux, University of Savoy and the Ministry of Culture of France. They were found at the eastern border of the southern part of Ukok. Images appear to depict a horse and a bison.
The effort was the first multidisciplinary study of ancient rock art in Siberia by a Russian and French team. Scientists looked at the style of the petroglyphs compared to those found from a later period – rock art dating back 5,000 years had previously been found at the site.
Lidia Zotkina, from NSU, said: "As a result of the expedition, French geomorphologists were able to establish that in the area of 10,000 years ago, there was no ice, so the petroglyphs could be made ​​in the Palaeolithic era."
Scientists also tested the stone and the metal used to make the images, providing further evidence of the petroglyphs age.
Speaking to the Siberian Times, Zotkina said it appears whoever created the petroglyphs sketched the drawing on to the rock before scraping into it.
In terms of who made them, she said this is still a mystery: "Some big Palaeolithic sites where people must have lived were not found yet. The climate on Ukok does not help to preserve such sites, so we do not know who could make these petroglyphs, if it is correct that they are Paleolithic.
"But I think that it is a matter of the time. Sooner or later Paleolithic sites will be found and we will get more information about the people who could engrave these images."