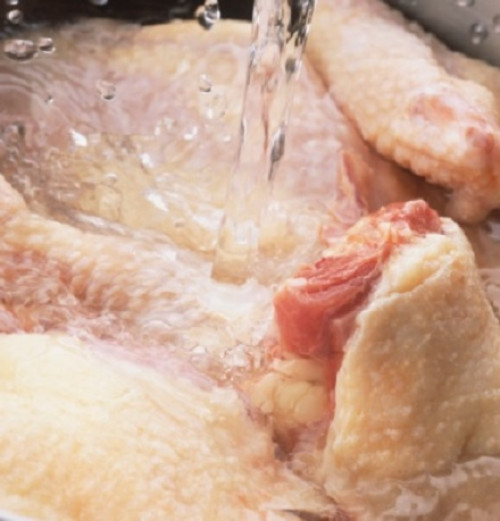 Supermarkets including Tesco, Asda and Sainsbury's have joined a call to stop celebrity chefs washing raw chicken on TV cookery programmes.
Bosses from all of Britain's major supermarkets have backed a Food Standards Agency's (FSA) effort to stop TV chefs rinsing poultry before they cook it because it can spread potentially lethal bacteria.
The call comes as new figures show that 44% of people always wash chicken before cooking it - a practice the agency says can splash water droplets with the harmful Campylobacter bacteria onto hands and other surfaces.
A survey conducted by the FSA found the most common reason people washed chicken was to remove dirt (36%), getting rid of germs (36%) and out of habit (33%).
Food safety experts says Campylobacter is the most common form of food poisoning in the UK, affecting an estimated 280,000 people a year with around four in five cases originating from contaminated poultry.
Symptoms include abdominal pain, severe diarrhoea and vomiting and at its worst can be fatal.
As part of Food Safety Week, the agency and supermarkets have now written to production companies that make food programmes, asking them not to broadcast chefs washing raw chicken on TV.
FSA chief executive, Catherine Brown, said: 'Although people tend to follow recommended practice when handling poultry, such as washing hands after touching raw chicken and making sure it is thoroughly cooked, our research has found that washing raw chicken is also common practice. That's why we're calling on people to stop washing raw chicken and also raising awareness of the risks of contracting campylobacter as a result of cross-contamination.
'Campylobacter is a serious issue. Not only can it cause severe illness and death, but it costs the economy hundreds of millions of pounds a year as a result of sickness absence and the burden on the NHS."