Twitter CEO and Senior Engineering VP Took Home More Than $10m in 2012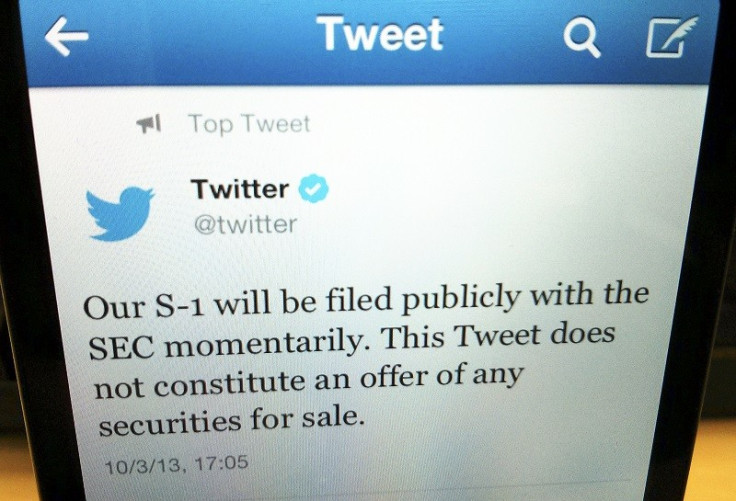 The chief executive officer of Twitter raked in $11.5m last year, according to the social media company's initial public offering documents.
Richard Costolo, CEO of Twitter, took home $8.4m (£5.2m, € 6.1m) in stock awards, $2.9m in option awards and a $200,000 salary in 2012, according to the employer's S-1 registration statement.
The document, filed at the US Securities and Exchange Commission, also revealed that Twitter gave its head engineer, Christopher Fry, a $10.3m remuneration package last year.
The Senior Vice President of Engineering enjoyed $10m in stock awards, a $100,000 bonus and a $145,513 salary in 2012.
The pay bundle puts Fry just behind Costolo and demonstrates the amount of money Silicon Valley companies will invest in top technology talent.
The extravagant awards are thanks to a shortage of high-level engineering executives, according to one executive.
"The number of A-players in Silicon Valley hasn't grown," Iain Grant, a recruiter at Riviera Partners, which specializes in placing engineers at venture-capital backed start-ups, told Reuters.
"But the demand for them has gone through the roof."
In comparison to Fry, for example, Facebook VP of engineering, Mike Schroepfer, took in $24.4m in stock awards the year before the social network's 2012 initial public offering.
He also drew a salary of $270,833 and a bonus of $140,344.
The figures will intrigue and inform would-be investors ahead of Twitter's floatation on the US stock market this year.
The site, which has 200 million monthly active users and creates 500 million tweets every day, expects to raise at least $1bn when it goes public later this year.
© Copyright IBTimes 2023. All rights reserved.