Twitter has finally rolled out an update to its Windows Phone 8 application, bringing an entirely new interface and many of the iOS and Android features that were missing from the old version.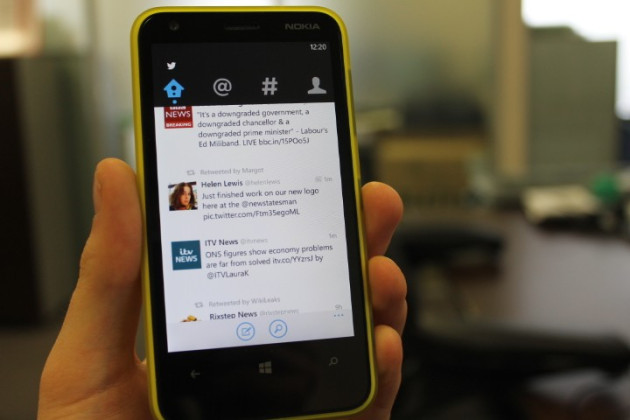 Tweets are split up into Twitter's usual four columns for your timeline, Connect (mentions, follows and retweets), Discover (trending topics and hashtags), and Me (personal profile and private messages). Switching between columns is done by either tapping the relevant icon or swiping from side to side.
The widely-used 'pull to refresh' gesture makes seeing new tweets easy, and the whole app feels much faster and more stable than the one Twitter originally provided for Windows Phone 8, which was slow, poorly designed and had a bug where avatars were assigned to the wrong users.
When writing a new tweet it's now easy to tag friends' usernames, as the app provides a scrollable list of suggestions as you type, saving you from sending tweets to the wrong user.
If you manage more than one account, switching between them is as easy as three taps, and all aspects of your profile - including your name, photo, bio and header image - can be edited and saved from within the application.
Twitter accounts, lists and searches can all be individually pinned to the Windows Phone start screen as a live tile, so if you want updates on tweets about a certain topic this can easily be done.
The updated app now also talks with the Windows Phone 8 lock screen, updating it with the number of new @ replies and direct messages you have received since last opening Twitter.
Overall, it's an impressive if late and much-needed update that bring the WP8 Twitter app in line with those for iOS and Android.