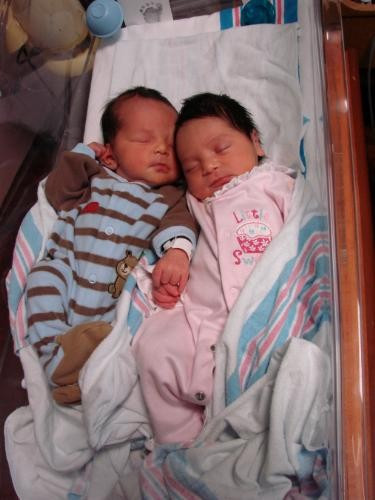 The chances are said to be one in five million but a woman in Florida has given birth to two babies from two separate uteruses.
The two babies were delivered separately last week in a Florida hospital and the mother who gave birth to them was said to be shocked when she found out that she had a baby in each uterus, according to a Morton Plant Hospital in Clearwater press release.
"It was definitely a shocker," said the 24-year-old Clearwater mother, who learned about her unusual double pregnancy during an ultrasound at seven weeks. "I was frightened and scared - a little bit of everything in one," the mother said.
Nathan was born at 36 weeks and weighed 5 pounds, 8 ounces. His sister emerged two minutes later, weighing 5 pounds, 10 ounces.
Andreea Barbosa, 24, and husband, Miguel Barbosa, welcomed fraternal twins, Nathan and Natalie Barbosa, on September 15, 2011.The mother and infants are healthy, according to doctors at Morton Plant Hospital in Clearwater, where they were born reports the Daily Mail.
Experts have said that uterus didelphys, or double uterus, affects about one in 2,000 women worldwide but there have been only 70-100 known cases worldwide of women being pregnant in both uteruses at the same time. Few carry their babies to term.
"We know there's a high rate of [problems] but it's not known why," Dr. Richard J. Paulson, chief of reproductive endocrinology and infertility at the University of Southern California Keck School of Medicine in Los Angeles, told ABC News after Reinfelder's twins were born. "It's not impossible, but it makes it more complex."
The Daily Mail reports that the most recent case involved 28-year-old Rinku Devi, of West Champaran, India, who birthed twins on July 29. Twenty-one-year-old Sarah Reinfelder of Michigan also defied those odds in 2009 when she carried twin girls to term. A third high profile case was twenty-three-year-old Hannah Kersey, of Devon, England, gave birth to triplets in 2006 - defying odds thought to be one in 25 million.
The condition, uterus didelphys, is known to cause infertility and miscarriage. The pregnancy was high risk and Mrs Barbosa delivered the twins at 36 weeks by caesarean section. Nathan weighed 5 pounds 8 ounces, while Natalie weighed 5 pounds 10 ounces ABC U.S.A. reports.