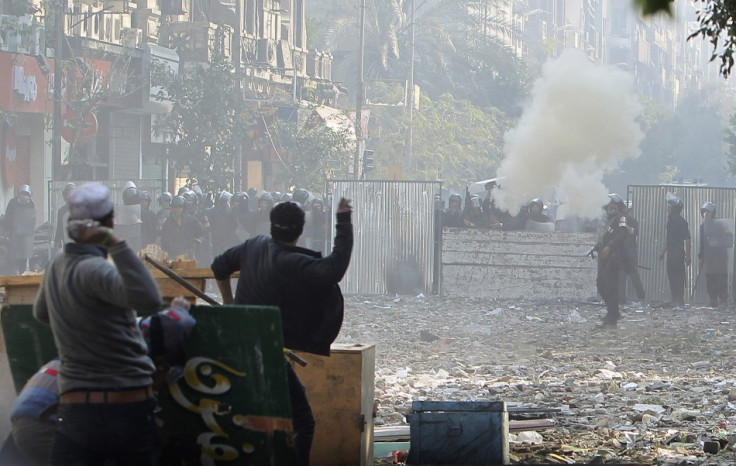 Three American students were shown on Egyptian television after being arrested during the protests near Tahrir Square in Cairo, where demonstrators are calling for the Military Council to hand over power to a civilian government.
The US students, who were first described as "foreigners" are accused of throwing petrol bombs at police during the protests on Monday, state television reported.
Egyptian state television quoted an official from the Interior Ministry as saying that three person accused of throwing petrol bombs at police had been detained.
It also showed pictures and footages allegedly showing the three students.
Tuesday, the US embassy confirmed that three US citizens were being detained and the American University in Cairo also said that three US students studying there had been arrested and detained.
"Three of our American study-abroad students, Gregory Porter, Luke Gates and Derrik Sweeney, were arrested last night. We are in touch with their families and are working with the U.S. embassy and the Egyptian authorities to ensure that they are safe," the American University in Cairo said.
"We have been able to determine that they are being held at Abdeen's public prosecutor's office," it said in a statement.
Arab Autumn: Violence Continues in Egypt as Protesters Reject Military Concessions [PHOTOS]
The U.S. embassy also confirmed the detention.
"We have been in contact with the Egyptian authorities and can confirm that there are three U.S. citizens in detention in connection with the protest. We have requested consular access," a U.S. embassy spokeswoman said, adding the embassy expected to be granted access to the students on Wednesday.
Meanwhile, more clashes broke out off Cairo's iconic Tahrir Square, where thousands of protesters rallied again on Wednesday to demand an immediate end to military rule.
Shadi al-Naggar, a doctor at the Omar Makram field hospital, said three people had died in the latest violence, which pits security forces against demonstrators throwing stones and petrol bombs.