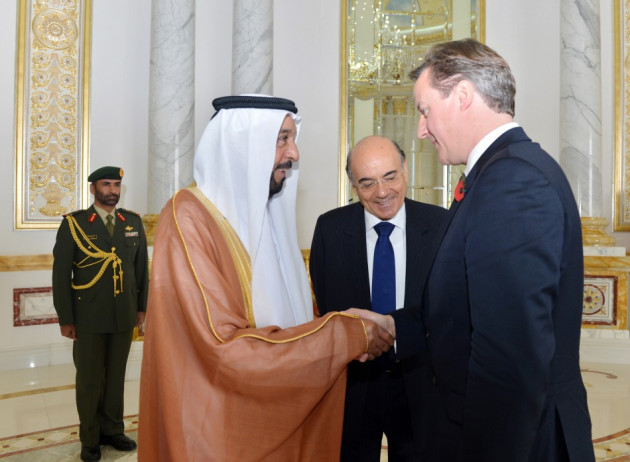 Sheikh Khalifa bin Zayed bin Sultan Al Nahyan, President of the United Arab Emirates, is set to arrive in the UK on a two-day state visit amid allegations that three Britons were tortured in a Dubai prison.
The UAE president will be hosted by the Queen and the Duke of Edinburgh at Windsor Castle later in the day.
David Cameron, who will hold talks with al-Nahyan, on the second leg of his visit, has promised to raise the allegations of torture.
Grant Cameron, Suneet Jeerh, and Karl Williams say they have been subjected to electric shocks and beatings after they were detained for possessing drugs in July last year. The Britons were arrested while they were on a holiday and have been given a four-year jail sentence each.
The Dubai police deny any wrongdoing and say an initial probe rubbishes the Britons' claims. Legal rights charity Reprieve is campaigning on behalf of the British prisoners. Kate Higham, Reprieve's investigator said: "The only reasonable course of action for the UAE authorities now is to grant these men clemency, release them and allow them to return home to their families."
A Number 10 spokesperson said a "wide range of issues" including the torture allegations will be taken up during the sheikh's visit.
Al-Nahyan's visit is likely to be dominated by the torture row despite the growing relationship between the two countries in defence and security. Bilateral trade between the UK and the UAE is worth more than £10bn and the Emirates is Britain's largest civil export market in the Middle East.
Energy, infrastructure, and education have been key sectors for the UK-UAE trade ties with more than 4,000 British firms operating in the UAE across various industries.
The UAE president is being accompanied by a large economic delegation and senior officials. "Emirati investment in the UK is also rich and diverse. Through projects like the London Array, the world's largest offshore wind farm, and the Emirates Skyline, a fantastic new cable car across the River Thames in London, the UAE is contributing positively to UK society. The visit will focus on forging new partnerships, whether in the field of economy, defence, politics, or assistance provided for developing countries," said UAE Foreign Minister Sheikh Abdullah Bin Zayed al-Nahyan.
This is the first visit by a UAE president to the UK since 1989.