UFC 196: Miesha Tate chokes out Holly Holm to become new bantamweight champion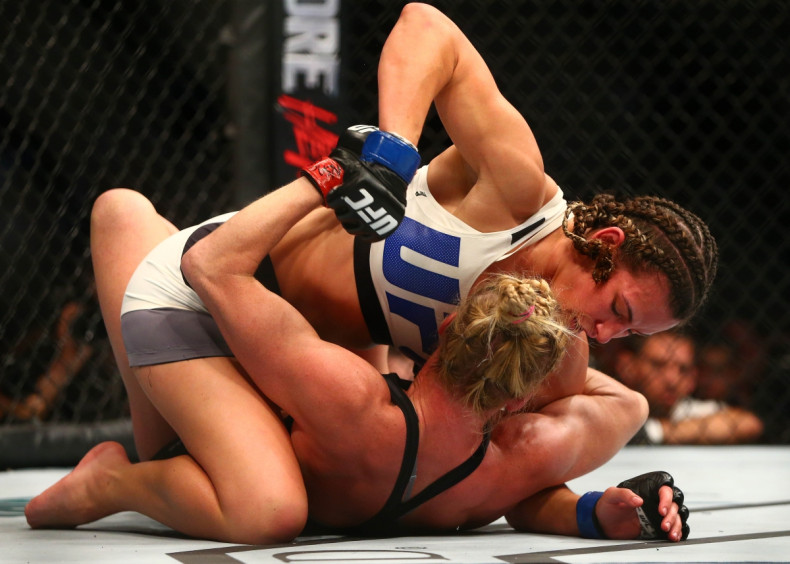 Miesha Tate has been crowned the new UFC Women's bantamweight champion after defeating Holly Holm via submission.
With a minute of the final round remaining, no. 1 contender Tate locked a devastating chokehold onto the defending champion. Holm desperately tried to shake her off but to no avail as she conceded her title in her first UFC loss.
Holm shocked the UFC world in December after her first round knock-out win over Ronda Rousey in December. Holm has already offered Rousey a rematch for later this year but if that fight is still to take place, there will be no championship on the line.
After a quiet opening round, Tate showed took the initiative in the second when she managed to score a takedown on Holm, locking in a rear naked choke that the champion only just managed to wriggle out of.
Tate continued to look for the submission in the third but Holm kept her at bay with stinging jabs, scoring vital points all the way.
Heading into the final round, Holm looked to be heading to victory, having edged three of the rounds compared to Tate's one. Sensing she needed a big finish, the challenger ducked a strong right and again locked on a rear naked choke. This time, there was no escape for Holm who briefly slipped unconscious before the fight was stopped.
"I feel like we had a great gameplan, we had to be patient," Holm said after her win. "She's capable of catching anyone at any moment. She's a very calculated fighter.
"This is obviously a very emotional moment for me.