Women's bantamweight champion Holly Holm returns to action on Saturday 5 March for the first time since her remarkable demolition of previously unbeaten MMA favourite Ronda Rousey in late 2015. She takes on Miesha Tate in what has been billed as the co-main event of UFC 196, alongside Conor McGregor vs Nate Diaz.
Where to watch
In the United Kingdom, UFC 196 will be broadcast live on BT Sport 2. Coverage of the preliminary bouts is due to commence at 1am in the early hours of Sunday morning, with the main card slated to get underway two hours later. Holm and Tate are expected to face-off at approximately 5am, although that could obviously be subject to change.
Preview
Holm brought practically the entire UFC universe to a screeching standstill in November, taking full advantage of her opportunity to complete arguably the most sizable shock in the company's relatively short history. Few gave the unassuming "Preacher's Daughter" much of a prayer beforehand, but she utilised her strengths to perfection and rocked the seemingly invincible Rousey early on before continuing to land a series of devastating blows. A brutal swing of the left foot later secured the most destructive of second-round knockouts in front of a stunned 56,214-strong crowd in Melbourne.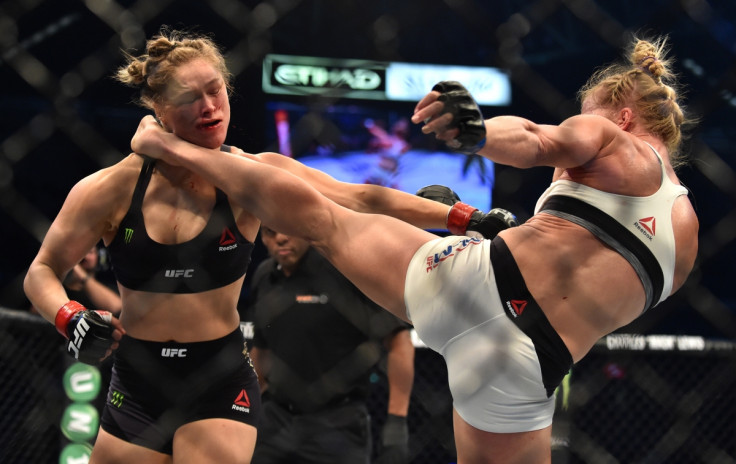 While the physical effects of such a comprehensive defeat were clear for all to see, the psychological impact on the former champion has only been made clear more recently. Talk of a potential rematch inevitably surfaced almost immediately but was never likely to happen quickly due to the sheer impact of those aforementioned injuries. Instead, Holm, a fearsome striker who previously honed her abilities as a champion professional boxer and kickboxer, provides her first title defence against Tate with the winner likely to meet Rousey later in 2016.
An accomplished wrestler who will hope to engage her opponent primarily on the mat, Tate is preparing for her second title opportunity having previously taken Rousey three rounds at UFC 168 before being forced to submit to her signature excruciating armbar hold. That was the second time the pair had fought, with a 2012 contest in the now defunct Strikeforce promotion ending earlier but in similar fashion.
The 29-year-old felt aggrieved that she had been overlooked for another shot at bantamweight glory last year, but has now been granted that chance after an impressive run of four consecutive victories against Liz Carmouche, Rin Nakai, Sara McMann and Jessica Eye that reinforced her position as the number one contender.
What they've said
Holly Holm: "I was open to a rematch with Ronda. I just wanted whatever opportunity was going to come. I think this is definitely even more of a challenging way to go. There's a lot of pressure behind it. I think there's a lot of anticipation what I'm going to do after the last fight. There's a lot of high expectations, and who wants to be a one-hit wonder?"
Miesha Tate: "I've watched some of her fights and I've seen her chin get tested, and I think it's a little bit suspect. I saw Raquel [Pennington] put her down with a shot and actually even Ronda caught her with a left hook and she wobbled. So it just leads me to think that she might have great striking, but maybe a glass chin, too. I don't know.
"I can't give any specific fight predictions. You never know. That's the awesome thing about it. You never know how it's gonna go exactly. I can promise you I'll win on Saturday. That's about all I know."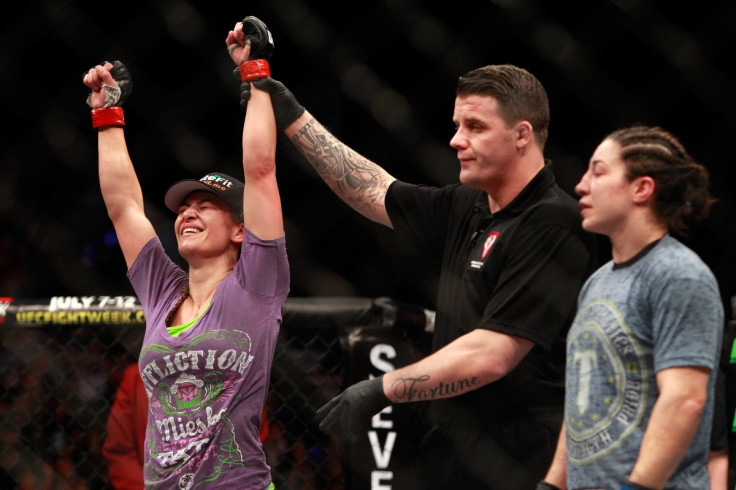 Records
Holm: 10 MMA fights, 10 wins (seven via knockout)
(W) Ronda Rousey - knockout (head kick and punches) - November 2015
(W) Marion Reneau - unanimous decision - July 2015
(W) Raquel Pennington - split decision - February 2015
Tate: 22 MMA fights, 17 wins (three via knockout)
(W) Jessica Eye - unanimous decision - July 2015
(W) Sara McMann - majority decision - January 2014
(W) Rin Nakai - unanimous decision - September 2014
Betting odds (Betfair)
Main card
Conor McGregor vs Nate Diaz
Holly Holm vs Miesha Tate
Gian Villante vs Ilir Latifi
Corey Anderson vs Tom Lawlor
Amanda Nunes vs Valentina Shevchenko
Preliminary fights
Brandon Thatch vs Siyar Bahadurzada
Erick Silva vs Nordine Taleb
Vitor Miranda vs Marcelo Guimaraes
Darren Elkins vs Chas Skelly
Diego Sanchez vs Jim Miller
Jason Saggo vs Justin Salas
Julian Eroso vs Teruto Ishihara