Conor McGregor ready to knockout 'slow and predictable' Eddie Alvarez
Conor McGregor is looking to become the first UFC fighter to hold two-weight titles simultaneously.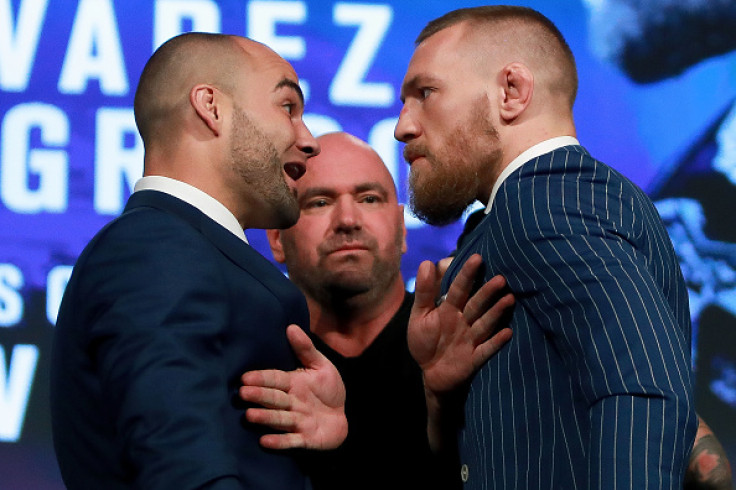 Conor McGregor made a defiant statement regarding his UFC 205 opponent Eddie Alvarez's chances of winning when they face off at Madison Square Garden for the lightweight championship on Saturday (12 November). The war of words is coming to an end and in four days time they will be putting their fists where their mouths are.
The Irishman is looking to make history and become the first Ultimate Fighting Championship (UFC) fighter to hold to two weight titles simultaneously and is confident that he can overcome the challenge posed by the Pennsylvania-born reigning lightweight champion Alvarez.
McGregor was labeled 'desperate' by Saturday's opponent after he claimed that Alvarez's wife and children will not be able to recognise him after the fight during a press conference. However the reigning featherweight champion brushed off his comments and gave a detailed explanation regarding why he will not have too much trouble dispatching the American UFC fighter.
"My fist is bigger than his head, and when I hit it it's going to explode," McGregor said during an interview with Rolling Stone magazine.
"I wish him all the best. I have no ill will towards him. They talk. Him and his team and his coach they talk all these crazy things pre-fight, now the fights signed and they're all apologies. It's almost like an acceptance of, 'Hey, we wanted the fight, now we got the fight and we'll take our ass whooping and thanks for the cheese, catch yas later. That's my sense with him.
"He's going to come in and fight with his heart and he's going to be knocked out cold. He'll get back up, he'll give me my title and respect will be given. I'll have two world titles, he'll make a little money and we'll move on," McGregor popularly known as 'The Notorious' added.
"I'm extremely confident. He's too slow, he's too predictable. I have the reach, I have the height, I have the youth and I have this freight train rolling in every time. These people don't represent challenges. This is just another body type. A new body. That's the way I see it. I run this game."
© Copyright IBTimes 2023. All rights reserved.