UFC light heavyweight champion Daniel Cormier is still targeting a fight with Jon Jones, claiming that he has been vying for a rematch since 2015.
In one of the biggest grudge rivalries in the sport, former light heavyweight champion Jones inflicted Cormier's first and only defeat in the octagon via unanimous decision at UFC 182 in January 2015.
Jones was later stripped of the title and suspended for a hit-and-run incident as Cormier went on to become the new champion by defeating Anthony "Rumble" Johnson.
When Jones' suspension ended, he was supposed to challenge Cormier for the belt at UFC 197 in April 2016 until a foot injury suffered by the champion delayed the bout.
With the rematch set at the bicentennial UFC 200 event, Jones was pulled from the main event for an anti-doping violation, and the youngest UFC champion in history later got suspended until July 2017.
"Bones" is now set to return from his suspension in just over three months and Cormier, who previously stated that his plan was to beat Jones twice before he retired, still maintains that he wants to fight but is wary about the possibility of another cancelled bout.
"Sure, whatever, I'd like to fight Jon Jones. That's what I've been trying to do since 2015," Cormier said on The MMA Hour. "It's been years, that's all I've been wanting to do is get another opportunity to fight him. So yeah, sure, if you want to give him a title shot, go ahead. That's fine. I think that, as long as that man has his affairs in order, he'll be good to go."
"It's just very hard — it's [cancellations] just scary, at the end of the day. All that stuff is scary, as I'm pretty sure it's scary to 'Rumble' to schedule to fight me because of the injuries. So for me, it's just a little bit scary. Jon and I have been scheduled to fight like four times, and we've only fought once."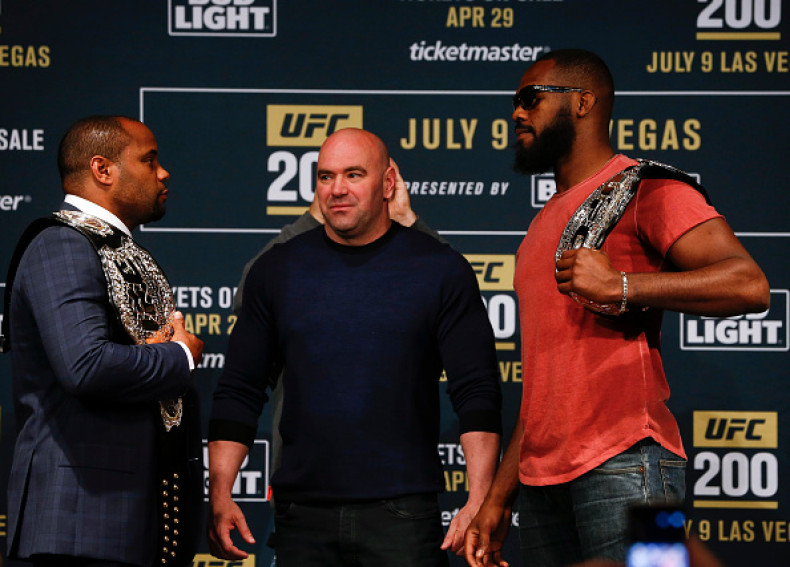 Cormier also acknowledged that at 37 years old, his career could be coming to an end soon but that he would eventually clash with Jones with hopes of avenging his only loss and cement his legacy.
"I said after I lost to him the first time and we were supposed to fight in [2015], I said give me the two toughest guys the division has to offer," he added. "At that time it was (Alexander) Gustafsson and 'Rumble.' I'll beat them so that I can get back to this guy. I did it in a year, and I was ready to fight in April."
"Then I got the injury and everything that happened in July didn't offer us the (chance to) fight, so I fought Anderson (Silva). I'm like, just get me back to where I need to be inside the Octagon against Jones. That's really what it all leads to.
"And the truth is, now it's about my legacy too. Title defenses, wins with being the champion, that all matters to me. So, it's all part of the journey, but at the end of the day, I do want to get back to Jones."