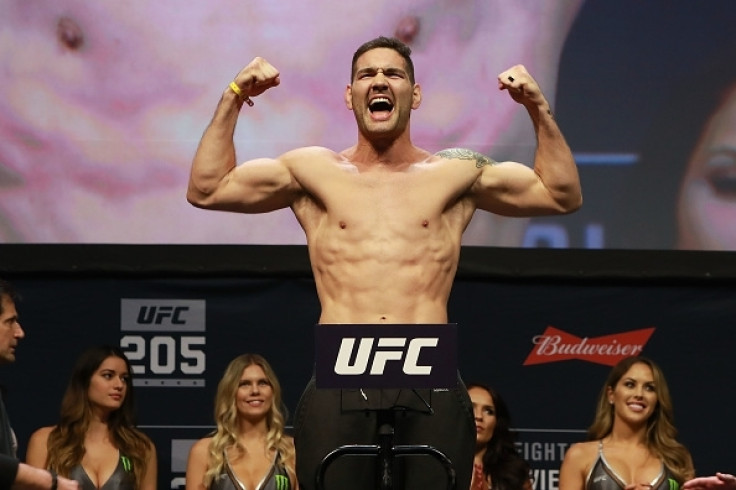 Despite three consecutive losses, Chris Weidman still believes he is the number one middleweight fighter in the world.
Formerly unbeaten, Weidman (13-3 record in MMA) made history when he ended Anderson Silva's long title run via knockout at UFC 162 in July 2013.
After three title defences, however, Weidman then lost the belt to Luke Rockhold via a brutal ground and pound finish at UFC 194 in December 2015.
The "All American" looked to bounce back from his first ever loss but has since suffered consecutive losses to Yoel Romero at UFC 205 and a controversial TKO stoppage loss to the recently departed Gegard Mousasi at UFC 210.
Now looking to get back on track and move up the middleweight rankings as he faces Kelvin Gastelum at UFC Long Island on Saturday (22 July), Weidman spoke up about his recent setbacks.
"Every one of those fights I lost, I was winning those fights and it isn't like those guys showed they have more potential than me or that their ability is better and I wasn't in their league," the 33-year-old told Yahoo in a recent interview.
"There were times in those fights where it might have looked the other way, where I was leaps and bounds above them. All of them. They got their hands raised that night. They figured out a way to win.
"They got their hands raised and I didn't, but that doesn't dictate my potential or where I am in the division. I feel like I'm the best in the world. I just have to go out there and be relaxed and be confident and I don't think any one of these guys could beat me."
Weidman notably played a big role in MMA's ban in New York coming to an end but has suffered two hard losses in his home state since.
He will now be the main event of the UFC's first ever card in Long Island where he grew up and will be hoping to end a bad run of losses against an impressive prospect in the 25-year-old Gastelum (13-2-1 record in MMA).
"I respect Kelvin and he's beaten some good guys in the middleweight division, no question about it," Weidman added. "I just know what I can do and what I am capable of. I lost those three fights and that changes the way other people look at me, but not the way I view myself."
"There are different reasons I lost each one of them and to be honest, I had the worst night of my life three nights in a row.
"I feel people are going to see the old Chris Weidman on Saturday. I don't even want to say the old Chris Weidman, because that kind of makes it seem like I've been gone. I haven't. I'm still here, right at the top. That's just how I feel. I'm prepared to go out there to prove I'm the best."