UFC: Nate Diaz hits out at 'artificial' Conor McGregor, claims he is not worth the hype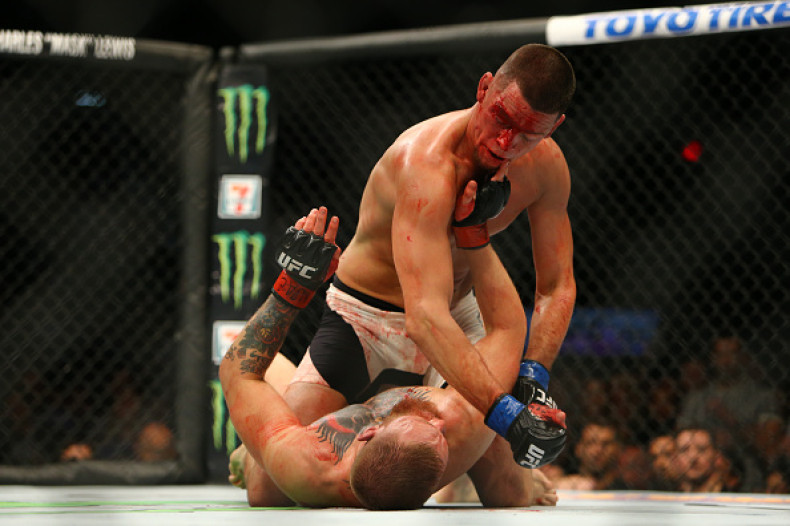 Ultimate Fighting Championship (UFC) fighter Nate Diaz has hit out at Conor McGregor, calling him 'artificial'. He claimed that he has got to where he is due to efforts of the promoters and not because of his fighting skills.
The American ended McGregor's unbeaten streak in Octagon, beating him via submission at UFC 196 and since then the pair have renewed their feud over social media. Diaz and McGregor were supposed to face off in a rematch at UFC 200 but the clash has since been scrapped.
"Conor McGregor is artificial. They pushed him and went everywhere. He didn't get to where he is by whipping all kinds of asses and sh*t. I'm where I'm at because I've been in fight after fight. I didn't do no media, how many times have I been on your show? You got me slippin, I didn't do no media", said Diaz as quoted by the Daily Star.
"I'm where I'm at because of strictly fighting. Now, he's where he's at because the UFC kicked his ass in gear and put him on a pedestal and blew him up."
Diaz's comments come just a day after Women's Bantamweight champion Miesha Tate admitted that McGregor gets preferential treatment by the UFC authorities. Tate said the UFC has spent a lot of money promoting the Irishman but that he (McGregor) is worth it and is one of the biggest superstars in the UFC at the moment.
Diaz, though, feels he has fought tougher opponents in the Octagon while McGregor has not had to face the same level of competition.
"How come he was such a big deal when he beat Denis Siver? Is that guy even ranked? I don't get no props when I fought Rory MacDonald, the No 1 welterweight contender and he couldn't finish me. I didn't get no props when I'm fighting (then champion) Ben Henderson. Everybody I have fought in the last few years has been ranked five to ten."