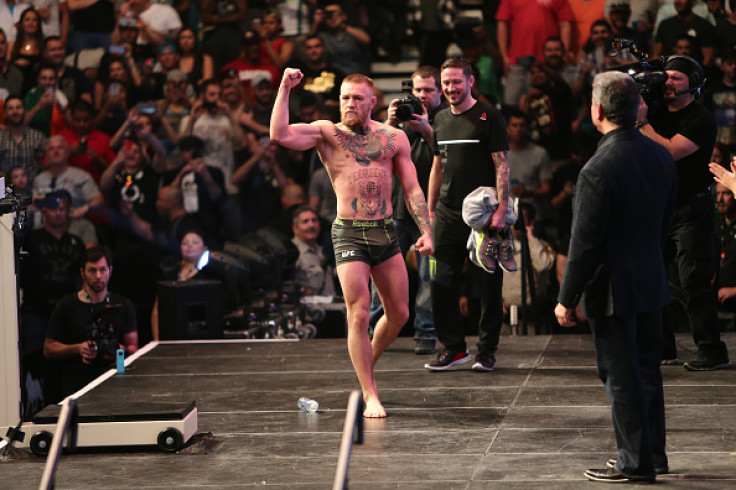 Ultimate Fighting Championship (UFC) superstar Conor McGregor has hit out at Floyd Mayweather, claiming the retired professional boxer "needs him". Mayweather, who retired from boxing in 2015 with a perfect 49-0 record, has set the rumours mills swirling about a potential return to the ring, hinting that he would take on McGregor in a super fight that could net him $100m (£688m)
The Irishman, who currently holds the UFC Featherweight championship, has insisted that if the fight were ever to happen, it would happen on his terms and that Mayweather needs the bout more than him.
"The leak came out and it was him who leaked the rumour. He said he gets $100m, I get $7m. That's a pay cut to me, I don't take pay cuts. I thought boxing was where the money was at. The $7m is absolutely laughable. If he is talking $100m I'm also talking $100m. I'm 27 years of age and I'm just about halfway through a $100m contract," McGregor told Sky Sports.
McGregor has not fought in the ring since his loss to Nate Diaz in UFC 196 in March, while Mayweather's last bout was in September 2015. The lack of in-ring action, though, is not a problem for McGregor, who is confident of a victory if the fight ever takes place.
"He's getting old now. I have the size, I have the reach, I have the height, I have the youth. He needs me, I don't need him. Who else can he fight? He fights someone in the boxing realm and all of a sudden the pay goes from $100m to $15m. So he needs me, if he wants to talk, we can talk, but I'm in control here."
The 39-year-old boxer has admitted that if he comes out of retirement it will only be to fight McGregor but that the match-up will be under boxing rules.
"He can make all the rules he wants. I know he will not want to fight in a mixed martial arts contest in a true fight. He'll want a limited fight there's no problem, I can do that. I will set aside many other forms of fighting that I practice and focus on one particular craft," McGregor said.