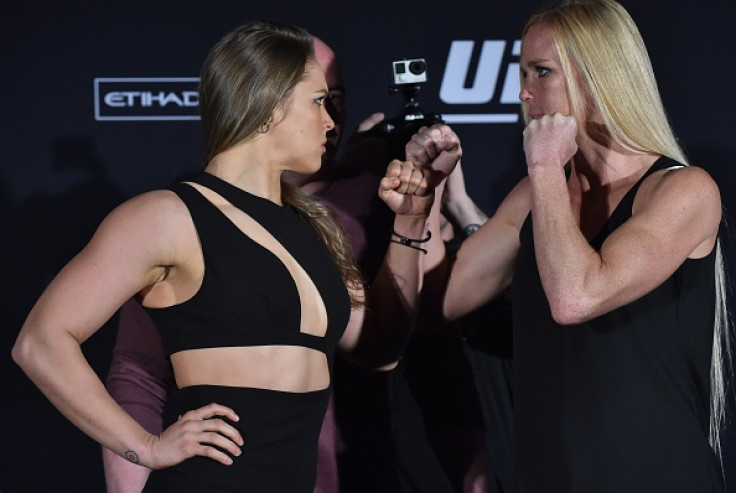 'Once a fighter, always a fighter', says Ultimate Fighting Championship (UFC) star Holly Holm when talking about the possibility of Ronda Rousey retiring from the sport after her second consecutive loss.
The California-born fighter suffered her second brutal knockout when she was punched out in 48-seconds by reigning bantamweight women's champion Amanda Nunes at UFC 207 on 30 December last year. It was Rousey's first fight in over a year following her loss to Holm in November 2015 when she surrendered the bantamweight title.
Talks about Rousey's future in UFC have been making the rounds since her loss with UFC president Dana White suggesting that she is 'probably done'. Holm, who began the longest reigning women's bantamweight champions' downfall, has backed her to return to the octagon in the future, even if she takes a lengthy break again to focus on other things.
"I'm one of those that, I'm a firm believer in the fact that once a fighter, always a fighter," Holm said, as quoted by mmafighting.com. "She might not ever want to fight again. She might not fight for two years, and then she might say,
'You know what? I'm really egging for it. I want to get back in there, I really want to fight. I've had enough of this regular life business.' You know?"
"I think that right now, I think that's just an honest opinion, I bet she just kind of feels like you know what, maybe I'm going to focus on other things right now. Going from a big high to a big low, I have a lot of respect for her. I've never said any different.
"I hope she's happy, and I hope she does what she wants to do, whether that be fighting, whether that be going to focus on other things. All I'm going to say is any fighter young enough, they might come back for another fight. You never know," the Albuquerque-born former bantamweight champion added.
The 35-year-old is currently preparing for her inaugural UFC women's featherweight title match against Germain de Randamie at UFC 208 on 11 February.