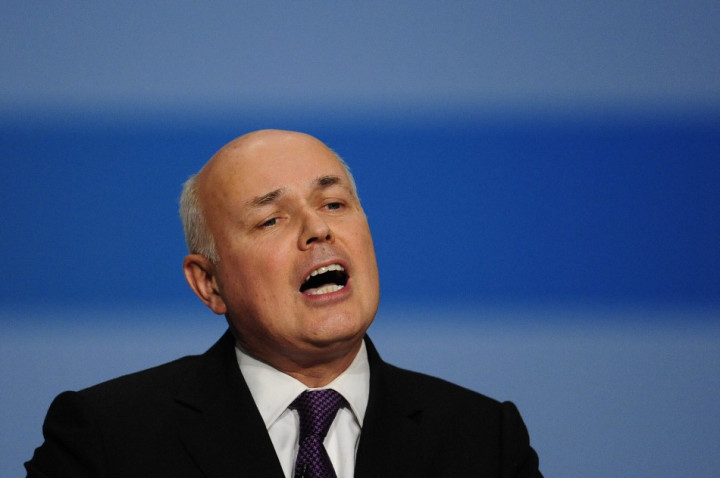 Critics have slammed work and pensions minister Iain Duncan Smith for ignoring the fact that more children than adults will be hit by the impact of his benefit cap being rolled out across the UK.
From 15 July, benefits will be capped at £500 a week, which is pegged to be in line with the average wage in Britain, for working age households where nobody is in employment. The cap will not include working households in receipt of tax credits or those where someone is claiming the Disability Living Allowance.
"The government are trying to use a blunt instrument to solve a complex problem," said Matthew Reed, chief executive of charity The Children's Society.
"The debate around this cap has focused solely on workless adults, but the reality is that children are seven times more likely than adults to lose out. One hundred and forty thousand children, compared to 60,000 adults, will pay the price as parents have less to spend on food, clothing and rent.
"And almost half the adults affected will have children aged four or younger, and would find it extremely difficult to be in work, even if they could afford childcare which can cost as much as £100 per child per week."
Where the Cuts Are Made
Jobseeker's Allowance, Income Support, Employment Support Allowance, Housing Benefit, Child Benefit, and Child Tax Credit will all be included in the cap.
The Department for Work and Pensions predicts that 40,000 households will have their benefits capped, saving the government £295m over two years.
Duncan Smith claimed he was "returning fairness" to the welfare system, which has seen billions slashed from its budget amid government austerity, which was "long overdue".
"We will always be there to support those who need help, but the days of blank cheque benefits are over and the benefit cap is a key part of this," said Duncan Smith.
"We need a system that no longer traps people in a cycle of dependency and is fair for the hardworking taxpayers who fund it.
"Seventy years after Beveridge helped establish Britain's welfare state, we are restoring public trust in it. We are ensuring it is there as a safety net for those who need it but that no-one can claim more than the average household earns in work."
An organisation representing housing associations criticised the cap on housing benefit in particular because families will not be able to afford high rents in the private sector, driven up by the meagre supply of affordable homes.
"In many parts of the country, families won't be able to pay high private rents because of the cap. There will be more demand than ever for affordable housing, particularly in Greater London where nearly half of the people affected by the benefit cap live," said National Housing Federation director Ruth Davison.
"Families could face the stark choice of cutting back on essentials or having to move away long distances from their support networks to look for cheaper places to live.
"Until we see a long-term affordable house building programme that will drive down the price of rents for everybody, housing costs should be removed from the cap."
Housing benefit recipients have also been hit by the so-called "bedroom tax", which has seen a reduction in the welfare payment to anyone with a spare bedroom. The government dubbed it the "spare room subsidy" and said it was unfair to ask others to pay for an empty bedroom.
Critics say that it is a punitive welfare cut because many of those with spare bedrooms want to move, but cannot because there are very few smaller properties available for them to move into.
The government has also capped benefit rises annually at 1%, effectively a real terms cut when price inflation is taken into account.