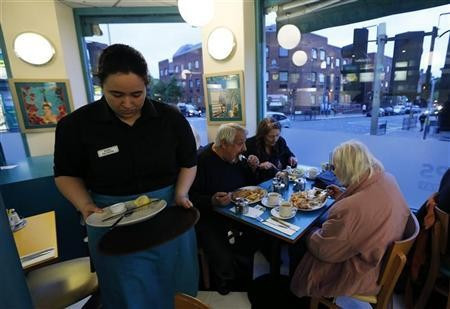 Britain's powerhouse service sector saw its sharpest rise in output for more than a year during May, in another improving indicator from the UK economy, to suggest a recovery is in sight.
The UK service sector Purchasing Managers Index (PMI), compiled by research Markit and the Chartered Institute of Purchasing & Supply from private industry, beat forecasts in May to hit 54.9, up from the previous month's 52.9.
Any reading over the neutral 50 figure signifies growth, while a number under suggests contraction. Services account for around three quarters of the UK economy.
Both other PMI surveys, for the troubled construction and manufacturing sectors, also defied expectations to produce positive numbers in May - coming in at 50.8 and 51.3 respectively.
Taken together, if this level of growth is sustained into June then Markit predicts 0.5% GDP growth in the second quarter, following a 0.3% expansion in the first three months when the country dodged an unprecedented triple-dip recession.
Chris Williamson, chief economist at survey compilers Markit, said that the UK economy has "all cylinders now firing".
The Bank of England's quantitative easing programme, which sees it hoover up gilts in order to improve market liquidity and drive investors to riskier assets, stands at a total value of £375bn.
Many have mooted the prospect of a further £50bn and dovish incoming governor Mark Carney, who takes over from incumbent Sir Mervyn King in July, has hinted that it is not the end of the road for QE.
"The increasingly buoyant picture and improved outlook painted by the PMIs effectively kills off any chance of the Bank of England's Monetary Policy Committee voting for more stimulus such as asset purchases for the foreseeable future," said Markit's Williamson.
"New governor Mark Carney will have the benefit of taking the reins of an economy that is already showing signs of acquiring 'escape velocity' from the doldrums it has been wallowing in for much of the last two years."
Richard Driver, Caxton FX analyst, said that the data emerging from the UK economy is "undeniably encouraging stuff".
"All areas of the UK economy look to be performing at present, with the notable exception of the high street," he said.
"Mervyn King has been bullish on UK GDP for Q2 and by the looks of it he is bang on. With figures in the eurozone beginning to improve as well, the outlook continues to brighten.
"Despite the uncertainty surrounding Carney's takeover of the Bank of England, it's hard to imagine a majority within the MPC will find it necessary to top-up quantitative easing with UK growth at these levels."