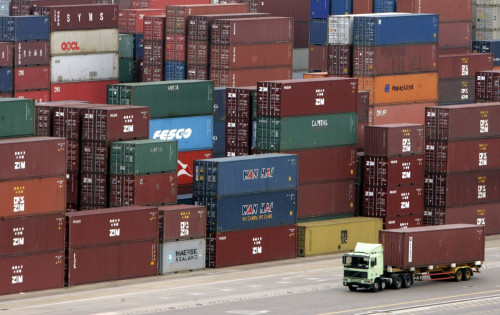 UK exports to key markets outside of the European Union dropped in November as Chancellor George Osborne's hopes of hitting his £1tn target trade fade further.
Her Majesty's Revenue and Customs (HMRC) said UK exports to non-EU countries fell 6.3% to £12.5bn ($20.5bn, €15bn) in November when compared with the month before.
Imports from non-EU countries also fell, by 3.8% to £16bn. Because exports fell at a faster rate than imports, the UK's trade gap expanded by 6.9%.
Osborne is looking past the UK's financially troubled main trading ally of Europe in his drive to boost exports. UK Trade & Investment, the government department responsible, is targeting 19 priority markets outside of the EU, including China and Russia.
In his 2012 Budget, Osborne set the £1tn target value for UK exports by the end of the decade.
Forecasts by the Office for Budget Responsibility (OBR), the Treasury's fiscal watchdog, show net UK trade staying flat over the coming years.
Osborne had wanted a trade-led recovery for the UK economy, but is now reliant on household consumption to drive output growth.
A recent trade visit to China by Prime Minister David Cameron secured a number of new deals, spanning healthcare and agriculture.
In one particular agreement worth £45m a year the UK will export pig semen to China. The semen will be from quality British pigs and used to improve Chinese stock through breeding programmes.
"We're doing all we can to ensure that businesses up and down the country reap the rewards from our relationship with China," said a spokesperson for No. 10 at the time. "And that includes our pig farmers."