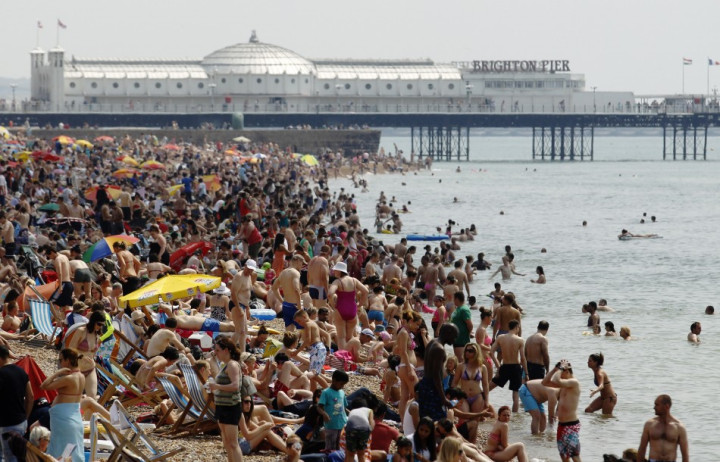 Both retail and tourism sectors have felt the warmth as the country enjoys a rare heatwave.
Temperatures have topped the 30C mark across much of the south in July and the heatwave - a level 3, according to the Met Office - is expected to last until August.
Waitrose reported sales growth of 165% of its outdoor furniture products, with 116% more BBQs alone being shifted. The supermarket's frozen ice lollies sales are up by 310%, and ice creams sales lifted 123%.
Asda has sold twice as many suncare products as in the previous year while Tesco customers gobbled nine million sausages in just one weekend. Sainsbury's sold 600% more disposable BBQs than they did in July 2012.
However, the hot weather has not been welcome with all retailers. Department store John Lewis blamed the heat, as well as big events such as Wimbledon and the Ashes, for an 8.7% fall in its sales on the year in the week to 13 July - though sunglasses saw a record week with 347% sales growth.
Other department stores were likely to suffer too as Britons flock to the beaches and parks rather than amble around high streets in the scorching heat.
To cope with increases in demand, many manufacturers and farmers were reportedly hiring more staff and working longer hours during the heatwave.
It has also given the domestic tourism industry a big bounce. The shores and promenades of seaside towns such as Brighton have been packed with daytrippers and holidaymakers seeking to make the most of a rare sweltering summer in the UK.
"Resorts will do really well and there will be a huge increase in visits to the countryside. The prediction of really hot, settled weather meant that the Superbreak company which specialises in holidays in the UK had its busiest week yet for bookings last week," said a spokeswoman for VisitBritain, the country's tourist board.
"We will see a tourist boom across the whole of Britain. UK residents will take more breaks in their own country and the high temperatures will persuade more overseas visitors to come to the UK."
Summer months are essential for many tourist attractions, particularly on the coast, as it makes up the bulk of the year's sales.
"It's great that the warm weather is continuing to provide a boost to small businesses up and down the country, especially considering how long businesses had to suffer from the cold this year," said Mike Cherry, national policy chairman of the Federation of Small Businesses (FSB).