An Orange Level 3 heatwave alert - just one level down from an emergency - has been issued by the Met Office for London and the southeast as forecasters predict no let-up in temperatures and the hottest day of the year still to come.
London and the southeast are recording temperatures above 30C and may go even higher next week, said forecasters.
The Met Office explained that Level 3 meant that the public should be aware of the dangers of hot weather and should take action to avoid negative effects on their health.
This stage requires social and healthcare services to target specific actions at high-risk groups.
Other parts of the country are under a Level 2 warning, meaning "take preparations for hot weather".
Angie Bone, Heatwave Plan lead for Public Health England, said: "In this continued hot weather, it's important to remember that high temperatures can be dangerous, especially for people who may be vulnerable such as older people, young children and those with serious illnesses.
"During very hot weather, pregnant women and people who have chronic illnesses, including cardiovascular, respiratory, renal conditions, diabetes or Parkinson's disease, may experience discomfort if indoor temperatures are particularly hot and in using public transport.
"Employers should ensure indoor areas are kept cool and consider allowing these individuals to travel to or from their place of work during cooler, or less busy, times of the day. For those working or exercising outdoors, strenuous physical exertion during the hottest part of the day should be kept to a minimum.
"The key message for healthy individuals is to follow public health messages on how to enjoy the sun safely by staying cool, drinking lots of cold fluids and checking on those you know are at risk."
Paul Cosford, director of health at PHE, added: "While hot weather is enjoyable for most people and uncomfortable for some, experience tells us that exposure to excessive heat can kill, with most cases of illness and death caused by heart and lung disease.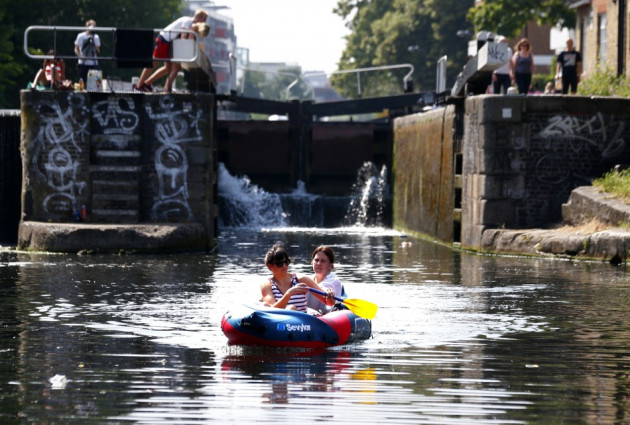 "Because we are not used to these very hot temperatures in England, it's important that local plans are in place to reduce the impact."
The hottest day of the year so far was Saturday 13 July, when temperatures in Hurcott Farm in Somerset reached 31.5C.
Forecasters for the Weather Outlook say that while the weekend will be slightly cooler, higher temperatures will return early next week.
It said: "Current indications are for the heat to intensify once again and there is a reasonable chance of the hottest day of summer 2013 being recorded during this period."