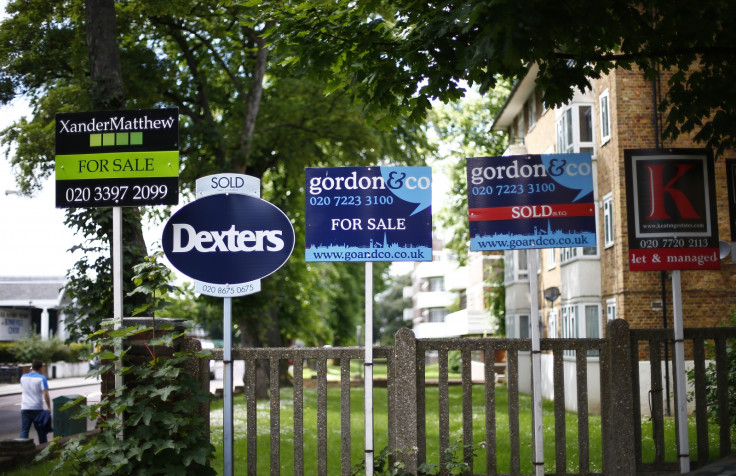 Most British homeowners are unsure as to whether house prices will increase significantly in 2015, according to a new survey.
A report by Knight Frank and Markit Economics said households in all regions covered by the House Price Sentiment Index (HPSI) perceive that prices have risen in January, but expectations for future price growth have fallen back and are well below last May's record-high.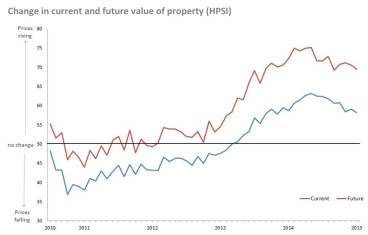 "UK house price sentiment cooled again in January, with the survey's gauge of current property values the least positive for over a year," said Tim Moore, senior economist at Markit.
"All regions have seen a sharp moderation in house price sentiment from its highest point in 2014, with London and the South West experiencing the greatest slowdown from recent peaks.
"January's gradual drift in UK house price sentiment hints at slower trends for property values over the coming months, reinforced by stretched affordability and slow wage growth.
"That said, the balance of households forecasting a rise in their property value this year is still high by the survey's historical levels, suggesting that subdued interest rate expectations and falling consumer price inflation could limit the scale of any retreat in UK house price sentiment during 2015."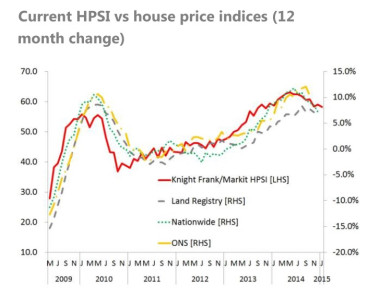 According to the HPSI, 19.5% of the 1,500 households surveyed across the UK said that the value of their home had risen over the last month.
This gave the HPSI a reading of 58.2, the 22nd consecutive month that the reading has been above 50, which indicates growth.
"House price sentiment has slowed across the country despite the cut in stamp duty introduced by the Chancellor George Osborne in December," said Grainne Gilmore, head of UK residential research at Knight Frank.
"Households in London and the South East signal slower annual rises in house prices this month than last month, an important development as these areas have been the engines of high house price growth over the last year.
"Even the prospect of record-low interest rates being in place for longer than anticipated has not been enough to lift expectations for house price growth on a monthly basis in January, however this, coupled with an expected rise in wage growth will likely result in modest price uplifts over 2015."
Meanwhile, new data from Hometrack's UK Cities House Price Index has shown that property price growth accelerated the fastest in Edinburgh and Glasgow at the end of 2014, while those in London have started to plateau.
Some 11 cities recorded an acceleration in growth over the second half of 2014, typically lower growth markets rising off a low base, while seven cities recorded a slowdown in the rate of growth during the same period.