UK house price growth has accelerated fastest in Edinburgh and Glasgow, while new data shows that London property prices have started to plateau.
According to Hometrack's latest UK Cities House Price Index, 11 cities recorded an acceleration in growth over the second half of 2014, typically lower growth markets rising off a low base, while seven cities recorded a slowdown in the rate of growth during the same period.
"House price growth at a city level looks set to converge further in the first half of 2015 as high growth markets continue to slow and lower growth markets start to see growth plateau," said Richard Donnell, Director of Research at residential analysts Hometrack.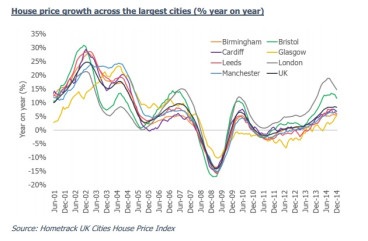 "Pent-up demand has fed back into the market in the last two years, supported by record low mortgage rates, but mortgage approvals have weakened in the last five months with a knock-on impact on house price growth.
"Low mortgage rates are making housing look affordable but it is the willingness and ability of households to borrow, against the background of greater mortgage regulation, which will most influence the housing market in 2015."
The index shows that the cities with the fastest house price growth over the quarter to December were Edinburgh (1.4%); Glasgow (0.7%); Liverpool (0.7%); and Southampton (0.6%).
However, after house prices surged by 14.7% in London over the whole of 2014, the rate of growth has plateaued and is set to slow in 2015.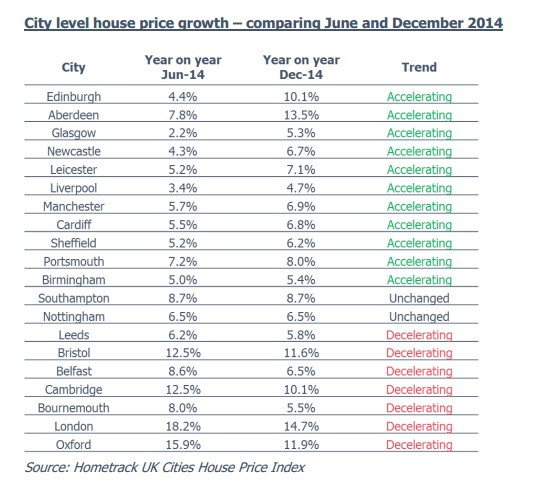 The latest data from the Office for National Statistics shows that the average UK house price stood at £271,000 (€358,130, $406,356) in October last year.
This is a slight decline from £273,000 in September 2014 and £274,000 in August.
Annual house price inflation was 12.5% in England, 5.8% in Wales, 7.6% in Scotland and 10.9% in Northern Ireland.