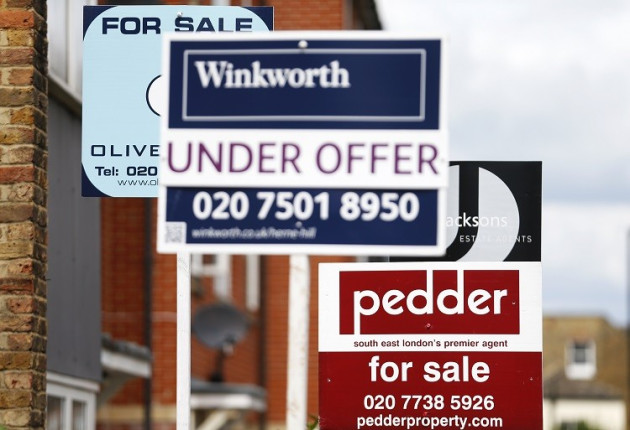 UK house prices are 7.7% higher on average than a year ago, according to Halifax.
The building society's house price index said the average house price hit £174,910 in the three months to November. It was a 2.1% rise on the quarter before.
Rising house prices come amid a weak supply of new homes and soaring demand off the back of stimulus for the residential mortgage market under the Help to Buy and Funding for Lending schemes. Critics warn of a housing bubble, but others argue it is a recovery in the market.
Martin Ellis, housing economist at Halifax, said that the real terms decline in incomes should help constrain house price growth.
"We are also seeing signs of a revival in housebuilding, which should help bring supply and demand into better balance and curb upward pressure on prices over the medium and longer terms," he added.
Office for National Statistics (ONS) figures show house prices in all regions except London and the South East are below their pre-financial crisis peaks.
Proponents of schemes such as Help to Buy say it is this slack that means there will be no new bubble in the housing market.
The Bank of England has also curbed its Funding for Lending scheme, which incentivises lending to the real economy through discount wholesale funding for banks, so it only focuses on business credit. It will no longer support consumer lending.
This is in the wake of Help to Buy, a three year scheme which offers a package of interest free equity loans and government lending guarantees to bring down barriers to mortgage borrowing, which is already fuelling demand.
However, critics accuse the government of playing politics with the housing market ahead of the 2015 election, attempting to drive an economic recovery through inflating house prices and increasing the value of existing homeowners' assets.
They say there is a bubble around the corner unless comprehensive action is taken to build enough new homes to meet rising demand.
In 2012, just 100,000 housing starts were made against the 250,000 many estimates put as needed to cope with demand.
Forecasts by the Office for Budget Responsibility (OBR), the Treasury's independent fiscal watchdog, show an acceleration in house prices. In 2014 it predicts 5.2% and by 2015 house prices will be growing at an annual rate of 7.2%.