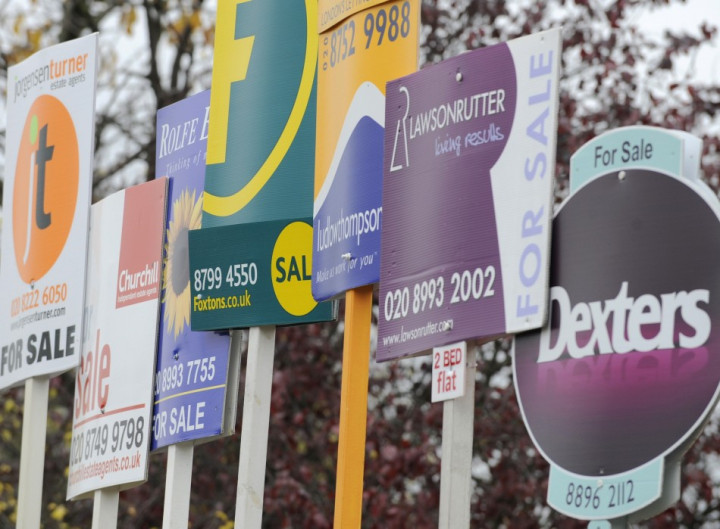 The UK's property market is putting up a barrier to economic recovery as the country muddles its way through the most serious double-dip recession for 50 years.
Rent is getting more expensive in Britain and the number of people who have not managed to meet this ever-bloating cost on time is on the rise too, according to the latest research.
First-time buyers are also in trouble as house prices have risen three times as much as the average income over the last decade. Those who own a house may find themselves trapped in negative equity because prices have not recovered enough from the crash.
"With the economy still in recession and rents climbing to a new record high, the minority of tenants experiencing difficulty in meeting the monthly rent cheque on time is steadily climbing," says David Newnes, director of LSL Property Services which owns Your Move and Reeds Rains estate agents.
LSL's research shows rent costs grew by 1 percent in July from June, with the annual price inflation reaching 2.9 percent.
Average monthly rent is now £725 and rent arrears grew for a second consecutive month, with 9.3 percent of rent late or unpaid, added the LSL.
This swelling cost is crippling British households, who have the third highest accommodation overheads in Europe, spending 40 percent of their income on rent or mortgages, a study by housing charity Shelter said.
Disposable income has already been hit by stagnant wage growth that has been far outpaced by rising price inflation.
Stinging housing costs have helped hinder consumer demand in the UK, something retailers are particularly aware of.
As households focus their spending on essential items and bills, many retailers, most notably clothing outlets, have relied on heavy discounting to lure people in from the high street.
Retail sales data suggests this tactic has failed and the shop vacancy rate has hit its highest ever level.
Mortgage market impenetrable for first-time buyers
It is not just the rental side of the property market that has caused problems for Britons and the economy, which contracted by -0.7 percent in the second quarter, though future revisions are likely to see this improved slightly.
House prices are falling, threatening to plunge more families into negative equity and hurt consumer confidence even further.
Three leading measures of UK house prices showed a continued decline in July.
The Royal Institute of Chartered Surveyors (RICS) House Price Balance slipped to -24 in July from the previous month's -22.
Nationwide's House Price Index for July showed a 0.7 percent decline month-on-month, with an overall drop of 2.6 percent for the year.
Halifax said that prices were down 0.6 percent on the month in July.
Meanwhile, fresh research from the National Housing Federation (NHF), which represents 1,200 housing associations across the country, revealed that since 2001 the average price of a house has soared by 94 percent, while the average wage has only gone up by 29 percent, reflecting the increasing unaffordability of property for ordinary working people.
"These shocking figures show that it is getting increasingly harder for millions of people to buy a home of their own in the current climate," David Orr, chief executive of NHF, said.
"With the gap between income and house prices growing ever wider, people can often feel like they have to win the lottery to be able to buy in their local area."
House prices held up by low supply and demand
While there is clearly a slump in the market, prices have not fallen further because there are two factors that have provided a floor.
The first is a lack of new housing stock, hamstringing supply.
In the second quarter of 2012 the number of new homes where building work has started fell by 10 percent to 21,540 compared to the three months to March, according to government statistics.
Completions, which are seasonally adjusted, were down 6 per cent to 29,470 in the second quarter.
With a falling supply of new homes, house prices have inevitably held up.
"Unless we start building more homes people can truly afford to match the demand, this will only get worse," NHF's Orr said.
The second factor holding house prices in their relatively steady decline is the struggle first-time buyers face in getting a mortgage.
Banks, unwilling to take on extra lending risk because of the recession and eurozone crisis, are demanding higher deposit levels before they make home loans.
Sometimes consumers are being asked to front as much as 20 percent of a property's value. Given the erosion of disposable income by high inflation, many have found it too difficult to save this much.
Mortgage approvals sunk to their lowest level since December 2010, said the Bank of England in July, with just 44,192 applications getting the rubber stamp that month.
It was down from June's 50,544 and is around half that of pre-financial crisis levels.
There is some light on the horizon for thwarted first-time buyers and home owners wanting their property's value to go back up, however.
Bank of England's credit easing plans
The Bank of England recently announced two credit easing schemes to encourage banks to lend again.
One of these, the Funding for Lending Scheme (FLS), sees banks offered cheap loans in direct correlation to the value of their affordable lending to the so-called real economy of businesses and consumers.
If this new policy works - which Bank of England governor has said there are "no guarantees" - then one consequence could be the reduction of deposit requirements for mortgages, which could stimulate more demand in the property market and help push house prices up.
Economists at the Centre for Economics and Business Research predict that this may lead to a fall in deposit rates of as much as a quarter.
Should the credit easing efforts fail to make affordable mortgages available again then the government may have to look at increasing the amount and length of first time buyer schemes it operates.
In March a stamp duty tax holiday for first time buyers ended, which caused a serious drop in mortgage applications.
Reviving this may help incentivise more buyers into the market.
There is a programme called FirstBuy running that sees the government and house builder give first time buyers an equity loan on part of the property they wish to purchase, which is interest free for five years.
It was launched by Conservative housing minister Grant Shapps.
Under the scheme only a 5 percent deposit is required, making buying a home much more accessible for many people.
The equity loan also lowers the value of the mortgage required from the lender.
By March 2013, when FirstBuy ends, the government hopes to have helped 10,500 first time buyers onto the ladder.