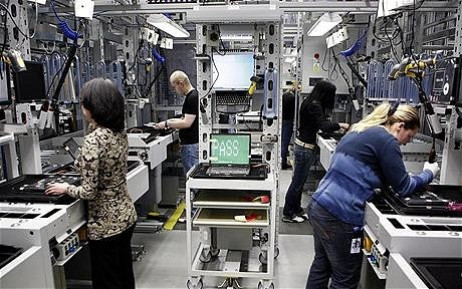 December Manufacturing PMI Reading
51.4, up from November's 49.1.
Other data
Manufacturing output hits 20-month high.
Production and new orders expand at accelerated rates. ƒ
Input cost inflation surges higher.
Manufacturing employment declined for the eighth month running in December.
Comment
Rob Dobson, Senior Economist at survey compilers Markit:
"UK manufacturing exited 2012 on a positive note, with December's PMI data signalling a reassuringly solid return to growth for the sector. However, this does little to change the view that the sector contracted over the fourth quarter as a whole following the temporary growth surge of 0.7 percent in the third quarter.
"The domestic market remained the main spur for growth of production and new orders in December, although there are also signs that global trade flows are stabilising as China and the US strengthen and the downturn in the Eurozone eases. If the recovery in overseas markets continues to build at the start of 2013, this would be of major benefit to UK exporters.
"The latest survey also showed that manufacturers remain on a cost cautious footing, leading to lower levels of purchasing, the running-down of inventories and a reluctance to increase payroll numbers.
"However, there are increasing signs of firms starting to move out of this cost-cutting mode, though it is clear that the outlook remains far from certain. Business confidence among producers therefore remains fragile and could easily be derailed by setbacks in key export markets, notably any resurgence of the Eurozone debt crisis."
Purchasing managers index (PMI) surveys are carried out by Markit Economics and the Chartered Institute for Purchase & Supply (CIPS).
Each month purchasing managers across private UK firms are surveyed to give an indication of business activity in the service, manufacturing and construction sectors.
On the index, neutral output activity is 50.
Any reading above represents expansion, while under signifies contraction.