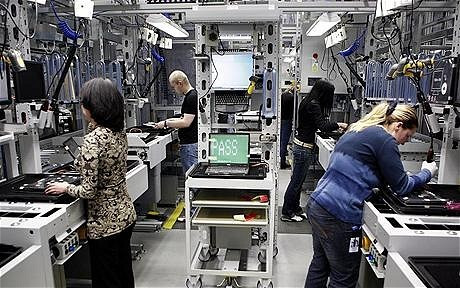 Britain's manufacturers intend to invest and hire more staff despite experiencing the most difficult trading environment for over two and a half years in the last three months, according to a survey by industry lobbyist EEF.
New orders collapsed under the weight of weakening demand in emerging economies and the crisis-hit eurozone, Britain's biggest trading partner, as domestic orders contracted for the first time in ten quarters, said EEF.
"The weaker global outlook precipitated by the ongoing economic challenges in Europe has clearly hit home," said Lee Hopley, EEF chief executive.
"Pockets of growth still remain in some sectors, but overall confidence appears to be draining away."
EEF expects manufacturing output to contract by 1.5 percent in 2012, before picking back up by 1.5 percent in 2013.
Chancellor George Osborne said in his 2012 budget statement that building up the UK's export market could be a route out of recession for the economy. He set the target value of £1tn in UK exports by the end of the decade.
However this latest data, coupled with research from the purchasing managers index (PMI) surveys from the manufacturing sector, cast a shadow of doubt over Osborne's export plans.
PMI data shows continued output contraction for the three months from May to July.
In July output slumped to a 38-month low.
Britain has been in recession for three quarters, with GDP crumbling by -0.5 percent in the second quarter of 2012.