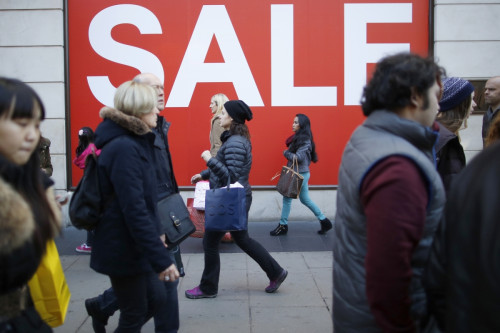 Britain's resurgent retail sector reported its best December sales growth in almost nine years during December despite the crunch on consumers' incomes.
When compared with the same month a year before, retail sales excluding fuel jumped 6.1% in volume terms, said the Office for National Statistics (ONS). That is the biggest rise since September 2004. Month-on-month, retail sales rose 2.8% in December.
This performance is against a backdrop of declining household incomes as UK pay rises more slowly than prices. Britons' household finances have also been dented by cuts to the government's welfare budget and rising bills, such as gas and electric.
"The retail industry will look forward to the coming year as the economy continues to improve," said Ian Geddes, UK head of retail at consultancy giant Deloitte.
"But the golden question remains – when will this translate into more pennies in wallets?"
It was smaller retailers driving the upsurge in sales after the bigger well-known high street giants reported a mixed set of Christmas results.
Retail sector firms with more than 100 employees saw sales grow by 2.6% on the year in December.
However, those with 40 to 99 staff reported a sharp 34.8% growth. Retailers with 10 to 39 employees saw sales rise 4.7%, while those with 0 to 9 reported 8.2% growth.
Department store Debenhams issued a significant profit warning over its disappointing Christmas sales, which sent its share price plunging. Rival Marks & Spencer reported a tenth consecutive quarterly fall in fashion sales, despite heavy discounting ahead of Christmas.
Supermarket giant Tesco's sales were also hit by tight consumer finances and price discounting during the festive period.
Online sales also soared, said the ONS. There was an 11.8% jump over the year in December in internet sales.