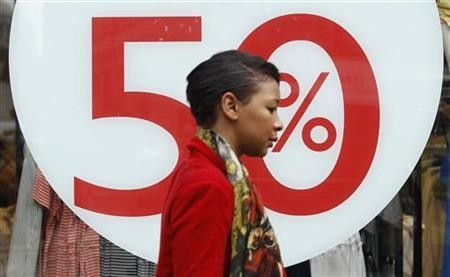 Retail sales growth in the moribund UK economy slowed in January.
Data compiled by the Confederation of British Industry (CBI), Britain's largest business lobbyist, reported a balance of +17 percent for sales in a survey of retailers, a drop of 2 percent on December. The figure represents the percentage difference between UK retailers reporting higher sales this year than during the same period last year than those reporting a decline.
Retailers were pessimistic about February's sales prospects with a balance of -7 percent as most predict a drop below seasonal norms in the month, according to the survey of 127 retail firms that took place in the fortnight to January 16.
The second half of January's retail sales, not covered by the CBI survey, is likely to be dampened by the period of snow and bad weather across the country.
"Despite mixed news from the high street over the last few weeks, strong sales growth in the grocery sector has added a touch of sparkle to overall retail sales.
"However, we are far from out of the woods. With tough trading conditions and subdued consumer spending adding to the uncertain economic picture, retailers will continue to face tough market conditions in the coming months," said Judith McKenna, Chair of the CBI Distributive Trades Panel and Asda Chief Operating Officer.
Food and drink sales were up, with a +34 percent balance among wholesalers.
However, specialist food and drink sales dropped, with a -32 percent balance.
Big-ticket household goods suffered a sales tumble, with a balance of -43 percent among surveyed retailers.
Latest official figures show retail sales falling by 0.1 percent on the month in December, despite the festive shopping rush.
Retailers have struggled since the financial crisis, as stagnant wage growth, a high cost of living, and a weak domestic economy weighed heavily on consumers' finances.