UK steps up renewable energy push as price of offshore wind power halves
Offshore wind power now cheaper than new nuclear power, government figures show.
<source src="https://video.ibtimes.co.uk/transcoder/480p/98/hinkley-point-explainer-1469706439.mp4" type="video/mp4">
<source src="https://video.ibtimes.co.uk/transcoder/480p/98/hinkley-point-explainer-1469706439.mp4" type="video/mp4">
A government report has revealed that the price of new offshore wind power projects has fallen dramatically and that they will be cheaper to pursue than new nuclear power.
Two offshore wind power firms that were awarded subsidy contracts by the government have pledged to generate electricity from 2022/23 at a price of £57.50 ($75.90) per megawatt hour, a 50% decrease on the last comparable auction in 2015.
The announcement is likely to trigger fresh criticism of the controversial Hinkley Point nuclear project, which has guaranteed a price of £92.50 per megawatt hour of electricity generated from the reactors being built in Somerset.
Overall 11 new contracts were awarded to clean energy firms worth up to £176m per year, including those pursuing advanced conversion technologies and dedicated biomass with combined heat and power.
"The offshore wind sector alone will invest £17.5bn in the UK up to 2021 and thousands of new jobs in British businesses will be created by the projects announced today," said energy and industry minister Richard Harrington.
"This government will continue to seize these opportunities as the world moves towards a low carbon future, and will set out ambitious proposals in the upcoming Clean Growth Plan."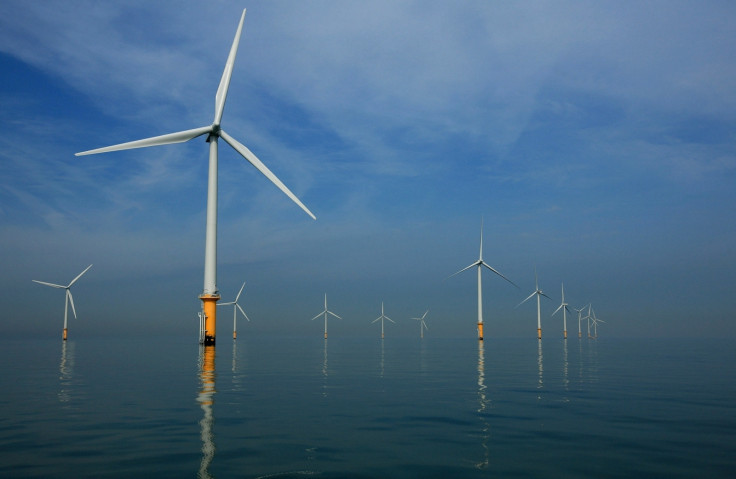 Some three gigawatts of electricity will be generated from the 11 new projects, enough to power 3.6 million homes, the government said.
The UK already has the largest offshore wind capacity in the world and low carbon businesses have a combined turnover of £43bn.
Emma Pinbeck from trade body Renewable UK told the BBC that the fall in the cost of offshore wind projects was "astonishing".
"We still think nuclear can be part of the mix – but our industry has shown how to drive costs down, and now they need to do the same," she said.
French utility firm EDF is building two new reactors at Hinkley Point at a cost of around £20bn, which are expected to provide 7% of the UK's electricity needs for 60 years.
© Copyright IBTimes 2023. All rights reserved.