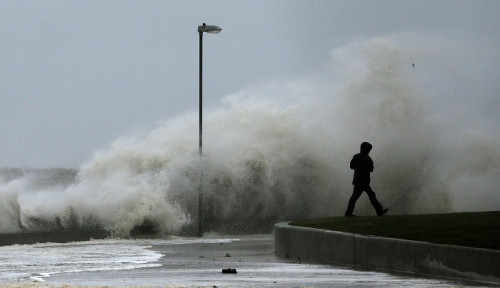 Many parts of the UK are expected to experience further stormy weather, as heavy rains and strong winds bring some of the wettest and windiest weather seen in the UK for decades.
The Environment Agency has enforced four severe flood warnings in England and more than 300 lower level flood alerts and warnings across England and Wales.
Anne McIntosh MP, the Conservative chair of the Commons environment committee, described the flooding experienced by coastal communities across the UK as a "major event".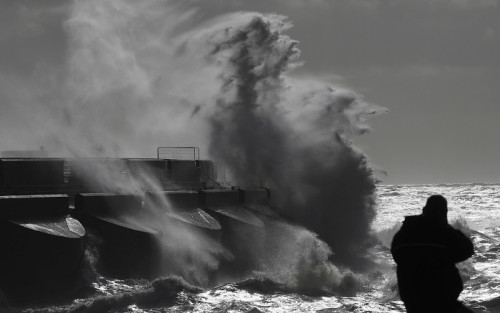 Several roads remain closed because of flooding in south-west England, south Wales, Cumbria, western Scotland and Northern Ireland. Train and ferry services have also been disrupted.
The south coasts of Cornwall and Devon and parts of Gloucestershire, Dorset and Wales have been worst hit by the flooding. Meanwhile, the Thames Barrier was closed for three hours on Saturday morning to prevent high tides causing widespread flooding to London.
On Friday, the Environment Agency issued 21 severe flood warnings as gusts of up to 75mph and strong tidal waves brought flooding to hundreds of homes across the UK, with residents evacuated in Dorset and Aberystwyth in Wales.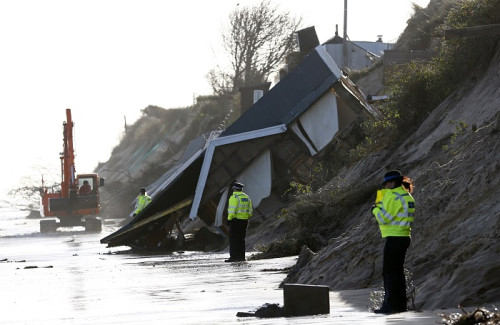 John Curtin, head of incident management at the Environment Agency, said: "The risk of flooding could continue throughout the weekend. We would remind people to avoid coastal paths and promenades which could be dangerous."
A number of flood alerts and warnings are in place in Scotland, where local authorities and the environment agency Sepa have warned of a possible large storm surge on the Firth of Forth on Saturday afternoon at around 4pm GMT.
Low-lying areas around the Firth and inland regions surrounding the River Esk in Musselburgh are expected to be affected.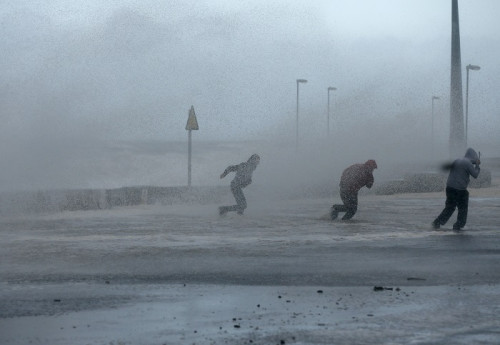 A search has resumed for Harry Martin, 18, who has not been seen since he left his home in Newton Ferrers, near Plymouth in Devon, to take pictures of the weather on Thursday. Air, sea and land searches began following Martin's disappearance, with police saying they were extremely concerned.
Meanwhile, a man was rescued from the sea at 3am on Saturday morning in Newquay, north Cornwall and taken to hospital after ignoring severe weather warnings to go for a swim in stormy waters. Police said the man narrowly escaped being washed out to sea.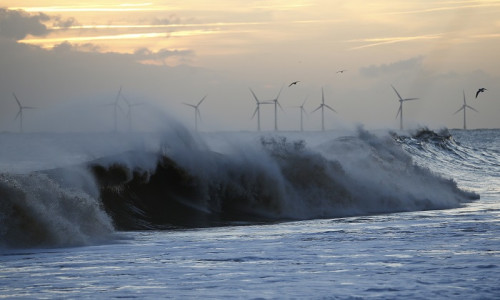 In Aberystwyth, the town's main beach was reported by local eyewitnesses to be "destroyed", as six-foot waves battered buildings and paving slabs.
Residents of seafront properties were evacuated and students at the town's local university were told the start of examinations would be deferred for a week due to the extreme weather conditions.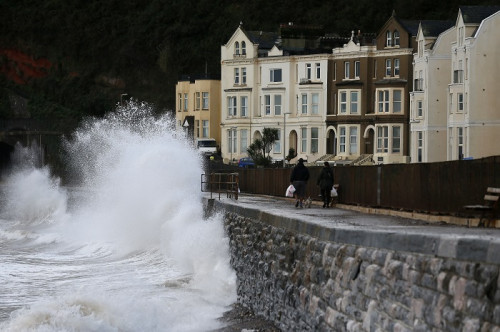 More stormy weather is expected to work its way towards the western side of the British Isles on Sunday, gradually moving towards the east and north of the country. On Monday, more rain and high winds are expected in parts of the UK.
Watch the storm hit north Wales in this YouTube video: