UK University Staff Plan Second Strike Over Pay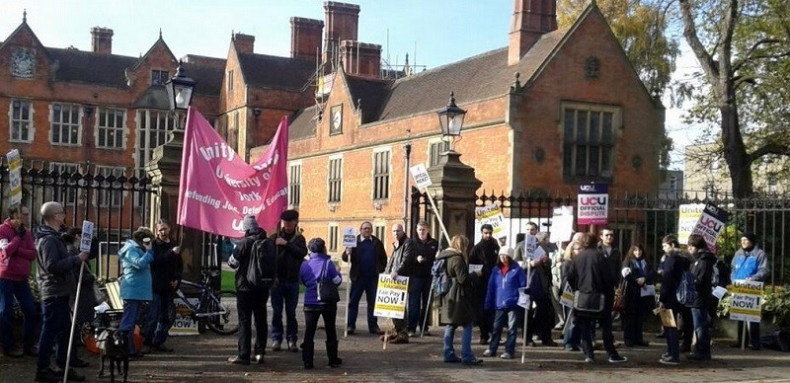 University staff across the UK will walk out over pay again for a second day of strikes if their employers do not negotiate with the unions.
The Scottish Education Union, the Educational Institute of Scotland, UNISON, Unite and the University and College Union, which represent university workers, have agreed to take industrial action on 3 December 2013.
Some of the organisations previously walked out in October due to a dispute over pay with UK universities.
According to the UCU, union members are angry at a 1% pay offer, when they have seen their pay fall in real-terms by 13%,
"Staff have suffered year-on-year cuts in the value of their pay and have made it clear that enough is enough," said Michael MacNeil, UCU head of higher education.
He added: "We remain committed to trying to resolve this dispute and the employers now have until 3 December to sit down and positively engage with the unions. If they don't, then our members and those from our sister unions will be out on strike again, as well as continuing to work to contract."
The UCU said the squeeze on staff pay comes at a time when pay and benefits for university leaders increased, on average, by more than £5,000 ($7,936, €5,926) in 2011-12, with the average pay and pensions package for vice-chancellors hitting almost £250,000.
The union argued the cumulative operating surplus in the higher education sector is now more than £1bn and claimed many higher education institutions have built up cash reserves.
But the Universities and Colleges Employers Association, which represents UK universities, argued that the pay offer was "good and sustainable".
"UCEA's 150 participating UK higher education employers have continued to say that, given the challenging and uncertain operating environment, the 1% pay uplift is a good and sustainable offer and is at the limit of affordability," said a UCEA spokesperson.
He added: "Our institutions tell us that the vast majority of staff understand the reality of the current environment and would not wish to harm their institutions, and especially their students.
"UCEA continues to say that it is willing to talk to the disputing trade unions so that we can explore together whether the dispute can be resolved."