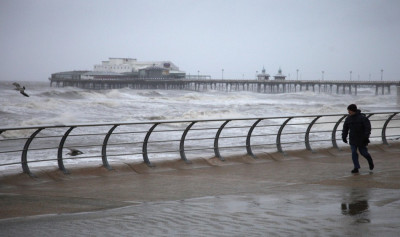 Parts of Scotland have been battered by stormy winds which have closed schools, disrupted transport and prompted warnings for drivers to stay off the roads.
Winds of 70mph-85mph hit the central belt, leading police forces to tell motorists to stay at home with winds reaching up to 151mph in the Cairngorm area of Scotland. The Met Office issued a red alert - its strongest warning - because of the gusts and have warned that temperatures in parts of the UK could drop to below -5C tonight.
Many schools across Scotland were closed and roads and railways were heavily disrupted. Thousands of homes in some of the western Isles of Scotland arte now reported to be without power because of the strong winds.
"It is not usual to have this type of weather hitting the northern parts of Scotland, but these storms have moved to affect more densely populated areas," a spokesman at the Met Office told Reuters
"There is serious risk of disruption to travel and the Forth road bridge has been closed."
The Met Office did release a statement which say they expect the winds to settle on Thursday night.