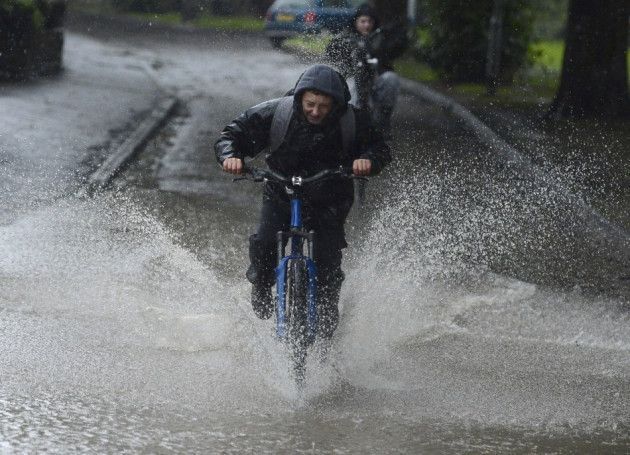 Flooding threatens millions of people in the UK as yet more heavy rain and gales batter Britain.
Amber flood warnings, meaning "be prepared", have been issued by the Met Office for southwest England, the West Midlands and Wales and residents have been advised to take steps to minimise damage to their property. Almost the whole of the rest of the country, including London, was under yellow flood warnings, which means "be aware".
Widespread disruption hit Gloustershire with 1,000 homes losing power as conditions worsened. Trees were felled by high winds and homes damaged.
In Wales, hundreds of motorists were stuck in traffic jams for hours on the A55 near Bangor.
In the southwest, town halls and other public spaces were being prepared to receive rainfall refugees.
Many roads were blocked in flood-hit areas and train operater First Great Western claimed the conditions were the worst it had coped with in 10 years.
In Devon, a canal burst its bank, sparking havoc for public transport near Tiverton. Temporary dams were erected by Devon County Council to stem the flow of millions of litres of water into fields.
Some improvement is expected for the hardest-hit areas, with a sunnier outlook forecast for Friday. But that was set to be only a temporary lull with more harsh conditions to come, said the Met Office.
Forecasters warned that up to 60mm (2.5in) of rain could fall on areas already struggling with heavy rainfall in recent days. A deep depression forming in the atmsophere over Spain and Portugal could cause more misery when it hits waterlogged Britain.
Stormy conditions off the coast triggered warnings to travellers. Devon coastguard Dave Scullion said: "We strongly advise [people] not to go out in these stormy conditions, particularly in small craft such as canoes and kayaks.
Deputy chief forecaster at the Met Office, Paul Gundersen, said: "The unsettled spell of weather is set to continue with further spells of heavy rain expected across the country over the few days."