As he travels down to London later this week to begin preparations for the FA Cup final against Chelsea on Saturday, Kenny Dalglish could be forgiven a jealous glance at the fortunes of the man he replaced at Anfield.
Just as Hodgson's stock has risen following his ignominious exit from Merseyside, so Dalglish's status among Liverpool fans has taken a dangerous turn since the start of 2012. Defeat against Fulham on Tuesday night was their 10th in the league since 1 January and the club now risk finishing outside the top eight for the first time since 1954.
The Scot has big dreams for Liverpool, bold convictions about reforming this and that, and he states them passionately, as always. He wants to bring the club together. He embraces concerns about their lack of goals, their inability to grind out results, their lack of width, and insists it can be reconciled in time.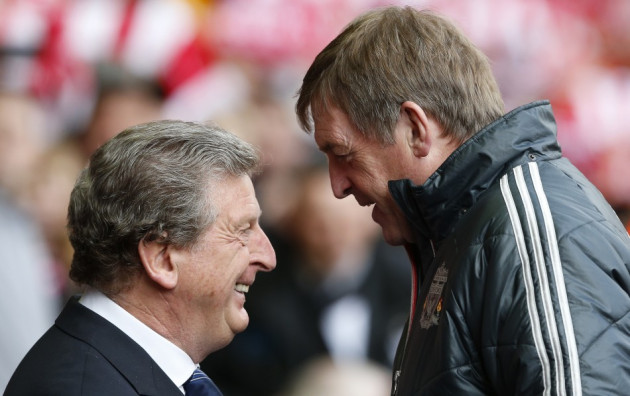 But time may not be on his side should Liverpool fail to win the FA Cup this weekend. After missing out on the Champions League for a third successive year, Dalglish can expect to receive significantly less than the £60m he splashed last summer. And he will be aware of the mumblings of discontent from the club's American owners that contributed to the exit of former director of football Damien Comolli earlier this month.
"The performance and attitude were very poor and that's not like us," Dalglish said in the aftermath of Tuesday's home defeat to Fulham. "Our attitude and approach is where it went wrong.
"I have to take part of the blame because I wanted to give everyone an opportunity to get minutes on the pitch and a chance to push their case for Saturday.
"If you're going to go into games with a bad attitude you will get nothing from the game - and that's what we got."
Dalglish made nine changes to his Liverpool side with an eye on Saturday's trip to Wembley but he will be aware the club's disastrous league form puts him in a vulnerable position when the club's owners come to review the season.
Comolli, Fenway Sports Group's first appointment on assuming control 18 months ago, was dismissed after "failing to implement the club's strategy". And Dalglish could still be held accountable for the club's league failings, after missing out on a Champions League place that was deemed the minimum objective for the side last August.
Dalglish received the support of chairman Tom Werner in the aftermath of Comolli's exit but his position remains weak in light of the club's continuing league struggles.
"No supporter would be delighted with the results we've achieved this year," Werner was quoted in the Telegraph earlier this month. "We are a club that needs to be perceived as the strongest club in football and we want to get there.
"Frankly, we make these decisions with a great deal of care. But when it's time to act, we need to act. We're coming close to the end of the season and the transfer window for the summer, and we felt it was time to make this change expeditiously.
"We've had a strategy that we have agreed on. There was some disconnect on the implementation of that. That strategy is a strong one and it will continue. We need to build a strong system under the first team. We're hard at work identifying transfer targets and we will be better next year."
Nevertheless, Dalglish will have to justify the impact of last summer's signings and investment in the team before further transfer funds are made available. And without additional success in the cup competitions he will have to present a winning argument to the club's owners that his long-term vision allies with their desire to grant him more time.