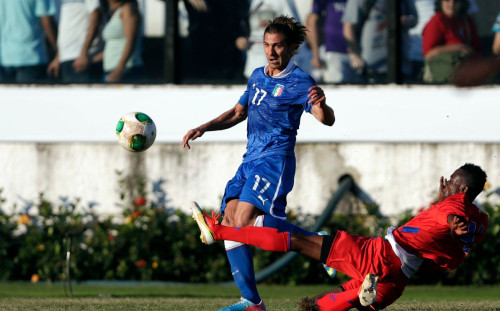 Manchester United and Manchester City have been handed a blow in their pursuit of Alessio Cerci as Torino chairman Urbano Cairo has refuted all reports talking about the winger's exit in the ongoing transfer window.
According to talkSPORT, the 26-year-old is a transfer target for United and City as both David Moyes and Manuel Pellegrini looks to strengthen the squad in January.
Despite confirming that Cerci will not be allowed to leave Torino in the mid-season transfer window, Cairo suggests that the Serie A outfit may consider allowing the player to leave in the summer only if an audacious offer is laid on the table.
"I won't put a price on him [Alessio] because at the moment he is not for sale," Cairo told La Gazzetta dello Sport.
"In the future, if he decides to consider an offer from a big, wealthy club, then sure, we'll talk. But at the moment, there have been no signals," he added.
But Cairo refuted all rumours suggesting that the Italian winger is headed for a move from Stadio Olimpico this month while stressing that the player is contracted to the club for two and a half season's more.
Last month, the winger had expressed his desire to play in the UEFA Champions League before the World Cup in the summer. Cerci's statements fuelled rumours hinting at a potential exit from Torino this month.
"I want to clarify one thing - Alessio is tied with us until 2016, not 2015 as has been reported and I can assure you, at the moment, there have been no offers from anyone," Torino's Chairman insisted.
"Alessio has been with us for some time, and so, for me, he is not for sale," he concluded.
The former Everton boss is keen on clearing out underperforming players during the January and the summer transfer windows as the Glaswegian looks to bolster his squad with quality signings who will dazzle the Old Trafford faithful.
Meanwhile, United will travel to west London to take on Chelsea at the Stamford Bridge for the league fixture on Sunday. The Red Devils are currently seventh in the table with 37 points from 21 games, 11 behind leaders Arsenal.