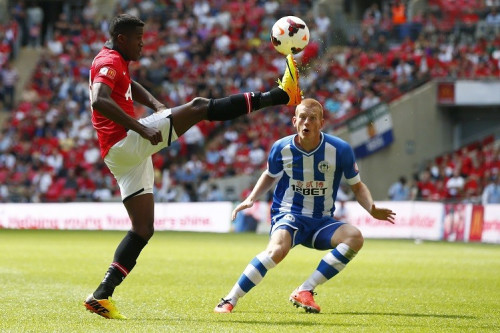 Cardiff City manager and Manchester United legend Ole Gunnar Solskjaer claims Wilfried Zaha can be the next Cristiano Ronaldo at Old Trafford.
The England international just made two appearances from the bench under David Moyes in the league this season. The lack of playing time saw the 21-year-old make a loan move to the Welsh club in the January transfer window.
Zaha made his Cardiff debut during their 2-1 victory over Norwich City as he registered his first assist in the top flight football competition in England. Solskjaer was impressed by the former Crystal Palace star's quality and has piped him to be the next Ronaldo.
The Portuguese international was sensational during his time with the Premier League champions, before making a switch to Real Madrid in 2009.
"He is one of the best I have seen with the ball. He has quick feet and is brave like Cristiano and wants to go forward. But he has got to make a ­decision about how good does he want to be and how much does he love this game," the Mirror quoted Solskjaer as saying.
"He can grow up to become a proper player like Ronaldo if he wants. I have never seen anyone work as hard as Ronaldo. Before training, after training, he was an exceptionally dedicated man and proved to everyone what ­dedication gets you."
"I am not afraid of using Sir Alex Ferguson or Cristiano as an example when I have to because to get the best out of your talent you need to be dedicated. It's a desire and attitude from within. It's what you've got in your heart and Cristiano's always had it," he added.
David Moyes has had a difficult start to his life as Sir Alex Ferguson's successor. Should Zaha impress at Cardiff during his loan spell this season, the former Everton manager could hand him a regular place in the starting line up once he returns to Old Trafford in the summer.
The victory over Norwich has seen Cardiff move from the bottom of the league table. However, the Welsh club are still struggling in the relegation zone as they sit 19th in the league table with 21 points from 24 games.