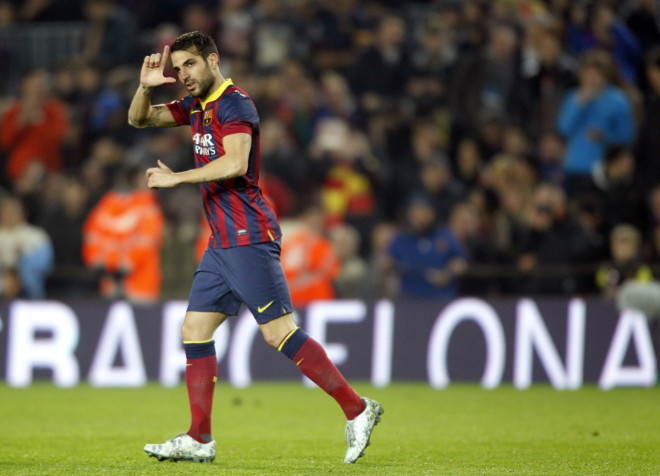 Manchester United may have come out red-faced in their pursuit of Cesc Fabregas last summer but the side must compete for his signature again in the current transfer window with an exit from Barcelona looking ever-more likely.
Fabregas' failed move to the club was the result of a clever agent pulling the wool over the eyes of an inexperienced manager and vice-chairman who fell for his client's perceived desire to leave Barcelona hook-line-and-sinker.
The former Arsenal man was looking for reassurances that he would be included in Barcelona's line-up on a regular basis with Tito Vilanova appearing to take a cold stance on his selections and incoming manager Tata Martino seemingly undecided over the Spain international.
And as United searched for a big-name signing to appease fans who were unsure of Moyes' abilities to manage of one of the world's biggest clubs, it seemed Fabregas as the answer to all their prayers. What the player eventually ended up doing was proving Moyes and Ed Woodward's doubters right as the side failed in their pursuit of a target who was never available in the first place.
But this time around things are very different, and as Arsene Wenger predicted last summer, Fabregas gave the Catalan giants one more campaign to show they want him and it is he who has been left wanting.
Made a scapegoat by many Barcelona fans for the side's trophyless season, he has been jeered off the pitch on a number of occasions this season. Tata Martino gave the midfielder more chances on the pitch than Vilanova but with incoming manager Luis Enrique set to make changes his comments on Fabregas' place in his plans for the season ahead have been telling.
While Enrique has openly talked about Messi and Neymar's abilities on the pitch and importance to the Barcelona side, on Fabregas he said: "Cesc? No need to ask for individual names. We won't talk now. Decisions will be made later."
With two seasons left on the Spaniard's contract talk over his future will only get louder if Barcelona don't offer him a new deal straight after the World Cup, paving the way for United to step in and once again attempt to convince Fabregas to return to England.
United will also face difficulty in signing Fabregas if Arsenal decide to go in for their former captain. They have first refusal on any bid that's accepted by Fabregas' current club and despite Wenger not needing any more midfielders he might choose to bring back a player who offered leadership and experience during his time at the Emirates.
History would show though that should United offer over the odds for Fabregas, Arsenal will unlikely match their offer. Wenger has allowed many players to leave rather than throwing around money to fix the problem and he won't change his stance this summer.
Should United sign Fabregas they will take a huge step toward reclaiming their status as a go-to club for top players and quash at least some of the embarrassment brought on from their disastrous transfer business last summer.