United States Grand Prix 2015: Where to watch qualifying live and practice revie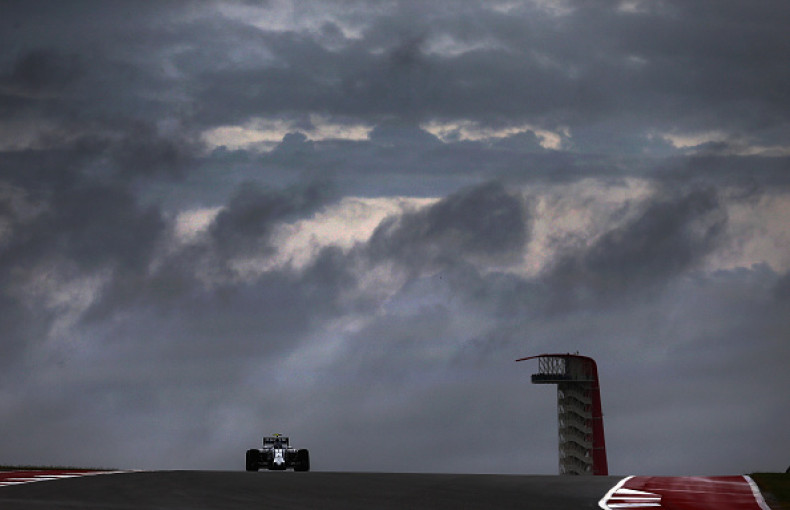 The 2015 United States Grand Prix has been interrupted by torrid rain, and after Friday saw just one session due to a storm, Saturday was similar after qualifying was postponed due a heavy downpour that left the drains flooded and puddles of water on the track. The session will now be run on Sunday morning at the Circuit of the Americas.
It was a rain-soaked Friday (23 October) at the Circuit of the Americas, which saw very limited running from the cars. They could only complete the first session as the second session was cancelled due to a storm passing through the circuit.
Wet weather is forecast for much of the weekend, which will make it a gamble for all cars on the grid. The Mercedes will start as favourites, but the rain could throw up a few surprises in qualifying and the race.
Nico Rosberg was the fastest driver in a wet FP1 session with championship leader and teammate Lewis Hamilton in fifth. Sebastian Vettel, who is the Mercedes driver's closest challenger, was sixth after completing 10 laps during the session.
The lap times, however, are not significant as the drivers were treated to what could be a fully wet weekend. Like the last two races, all the setup work will have to be carried out in the final free practice session ahead of qualifying.
Hamilton needs to outscore Vettel by nine points and his German teammate by two to be crowned the 2015 Drivers' champion for a second consecutive year.
Where to watch live
Qualifying session for the United States Grand Prix will begin at 2pm GMT (Sunday). Sky Sports F1 and Sky Sports F1 HD will provide live coverage of both events in the UK. Real-time internet updates are available on the Live Timing section of the sport's official website.