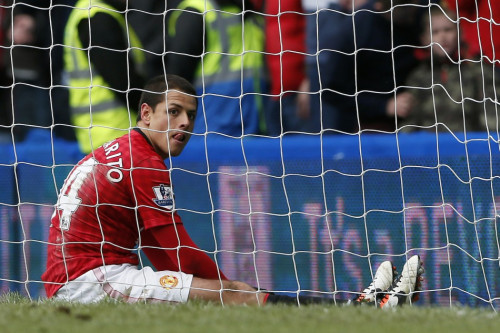 Mexico national-team coach Miguel Herrera has revealed that Manchester United striker Javier Hernandez is frustrated with the lack of playing time under David Moyes at Old Trafford.
The 25-year-old has started in only 10 games in all competitions, which includes four starts in the Premier League. The Mexican's appearances have come mainly from the bench during this campaign.
The former Everton manager has deployed Robin van Persie and Wayne Rooney to lead United's strike force. During the duo's absence, Moyes fielded Danny Welbeck as a lone striker with Shinji Kagawa or Adnan Januzaj playing behind the England international.
Hernandez has scored only two goals in the league this term and Herrera claims that the striker remains focused to train well in order to get a place in United's starting lineup.
"He seemed well but he is a bit frustrated because he doesn't play despite training well and the truth is that, when he does play, he makes a huge effort on the pitch," Goal.com quoted Herrera as saying.
"He is a bit frustrated because the current manager doesn't give him many chances but he is committed and doing what he can to become a starter. He likes to work and likes to show determination to achieve his goal," he added.
Meanwhile, United midfielder Michael Carrick admitted the 2-2 draw against Fulham at Old Trafford was hard to accept. The Premier League champions conceded a late goal, forcing the game into a draw. The England international claims it was criminal from his side in giving away the Cottagers second goal.
"It's a tough one to take, it's hard to explain how we've only come away with a point. It was an incredible game, so one-sided. We played well for most of the game, we created opportunities but just couldn't score," Carrick told United's official website.
"When we finally got in front, we should have extended the lead with the chances we had, so it's tough to take after being hit like that at the end. We certainly had chances to do it [go further ahead], but even so, we were so in control that letting it slip like that is criminal," he said.