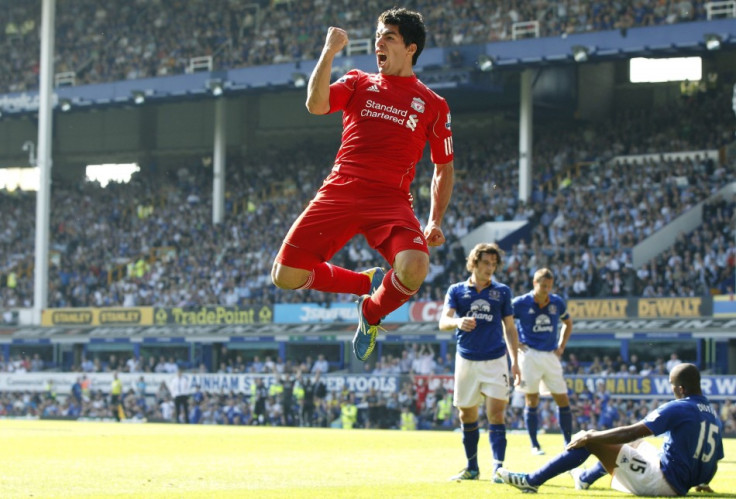 Luis Suarez has revealed that joining Liverpool was like a dream come true, with the striker taking the Reds to new heights since moving to Merseyside on deadline day last January.
Suarez joined Liverpool from Ajax for a fee believed to be around £22.8 million. And the Uruguay international, who took his national side to the semi-finals in the 2010 World Cup, insists that he has idolised players like Steven Gerrard and Kenny Dalglish since he was young.
"When I was a kid playing on the PlayStation, I always chose Liverpool. I've never said it before, but they were already my team at that time," he said.
"It was funny, because at the time I played on the screen beside Steven Gerrard and Fernando Torres, guys who were at the club when I came," he said.
"To me it was a dream come true."
Suarez adapted to the Premier League almost straight away, and his impact at Liverpool has been far reaching. And the 24 year old said that the hardest thing to get his head around was how difficult every match can be in the English game.
"The main difference between Ajax and Liverpool are the leagues," he explained. "The Premier League is really intense and very physical.
"In England there are no easy matches - ever."
Suarez was handed the number seven shirt by Dalglish when he signed on deadline day, and while the shirt is associated with great pressure and responsibility, he insists that it motivates him to be even better for Liverpool.
"It gives me huge pride," he said. "When I think about the players who have worn it before, like Kenny Dalglish or Kevin Keegan, it's been legends at the club.
"When I go onto the pitch, I am aware of the privilege I have been given to wear that number."
Suarez has scored seven goals in 16 appearances for Liverpool so far this season, and has been touted by many as the club's savour, as the Reds aim to get back into the Champions League at the end of the season.
Liverpool are currently sixth in the Premier League table, and have collected 23 points from 13 games.