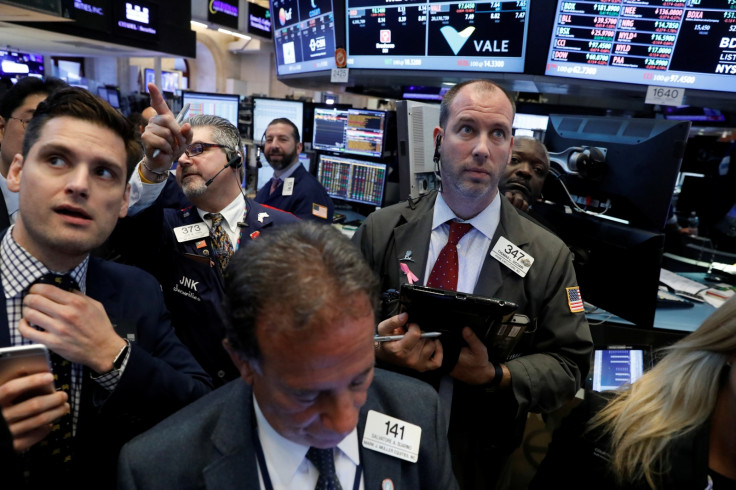 US equities closed higher Tuesday (23 May) as investors' optimism about the Trump administration rose following the White House's release of its 2018 budget proposal. The stock-index benchmarks marked their fourth straight session in positive territory.
The Dow Jones Industrial Average climbed 43.08 points, or 0.2%, to close at 20,937.91. Shares of Goldman Sachs Group Inc and JP Morgan Chase & Co, which suffered losses earlier in the session, added 32 points to the blue-chips gauge, MarketWatch reported. Meanwhile, a 1.3% rise in Caterpillar Inc added another nine points to the Dow.
The S&P 500 index rose 4.40 points, or 0.2%, to end at 2,398.42. Gains were led by the financial and healthcare sectors, with 10 of the S&P's 11 sectors closing higher, MarketWatch reported.
The Nasdaq Composite Index, meanwhile, inched up 5.09 points, or less than 0.1%, to settle at 6,138.71. The tech-heavy index marked its longest winning streak since 10 May, despite Apple shares dropping.
Tuesday's gains come less than a week after equities dropped more than 1% on fears that US President Donald Trump's pro-growth agenda was at risk, CNBC noted. News that Trump allegedly attempted to interfere in a federal investigation into his former national security adviser sent shockwaves throughout Wall Street.
"As we get temporary spikes in volatility, ... these will continue to be buying opportunities because the fundamentals have been so strong," Randy Frederick, vice president of trading and derivatives at Charles Schwab, told CNBC. Frederick noted that economic data has been solid and the latest earnings season surpassed expectations.
Investors are keeping an eye on Trump's first overseas trip since becoming president. After stops in Saudi Arabia, Israel and Palestine, the president will be in Europe for the remainder of his trip.
Trump's "trip overseas is definitely helping. Not so much because of what he'd done, but because he is tied up and doesn't have time to cause problems," Frederick added.
The president's 2018 budget is also being eyed by investors. Robert Pavlik, chief market strategist at Boston Private Wealth, told MarketWatch that Trump's budget is a "non-issue" as it is unlikely to pass Congress in its current form. "The market doesn't know what to make of it," Pavlik said. "If you're trading stocks on this budget proposal, then you're an idiot."
In economic news, US flash PMI reading for services and manufacturing for May were mixed, MarketWatch reported. Manufacturing PMI dropped to an 8-month low, but services PMI jumped to a 4-month high.
Treasury's benchmark 10-year note fell to about 2.28% as investors prepare for the probability that tax reform may not come as soon as expected. Gold prices dropped 0.5% to settle at $1,255.50 an ounce, while the dollar traded 0.4% higher.