Golf legend Arnold Palmer died on Sunday (25 September) at the age of 87, the United States Golf Association (USGA) has confirmed. Palmer was a seven-time major winner and was credited with helping to popularise the sport.
Palmer died at UPMC Presbyterian Hospital, where he had been undergoing heart tests since Thursday (22 September), the Pittsburgh Post-Gazette reported. His death was first reported by Golf Digest editor Joel Beall before 8.30pm EST/1.30am BST, and the magazine confirmed the news shortly after.
According to Golf Week, Palmer was born 10 September 1929 to a modest family. His father, Milfred "Deacon" Palmer, was a greenskeeper and professional at Latrobe Country Club. He married Winifred Walzer, who would be his wife for 45 years. She passed away in 1999.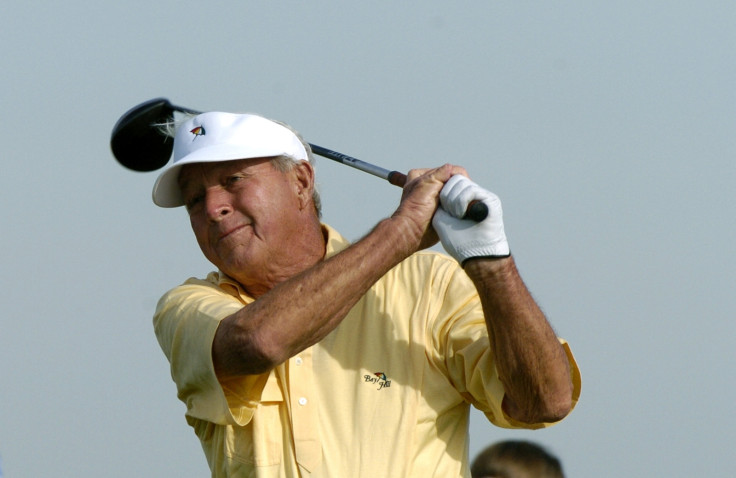 Palmer, a native of Latrobe, Pennsylvania, won the WPIAL and the PIAA individual titles while still in high school in 1946-47, according to CBS Pittsburgh. He turned pro in 1955 and went on to win seven majors, play The Master for 50 consecutive years and co-found the Golf Channel.
The Pittsburgh Post-Gazette reported Palmer made his last real public appearance on the first tee of the 2016 Masters. He was joined by longtime friends and golf rivals Jack Nicklaus and Gary Player for the ceremonial opening tee. The three players became known as the "Big Three" in the 1960s and 1970s. The enigmatic golfer was awarded the Congressional Gold Medal in 2012.
More follows...