US market close: Dow posts worst decline since February as Apple effect is felt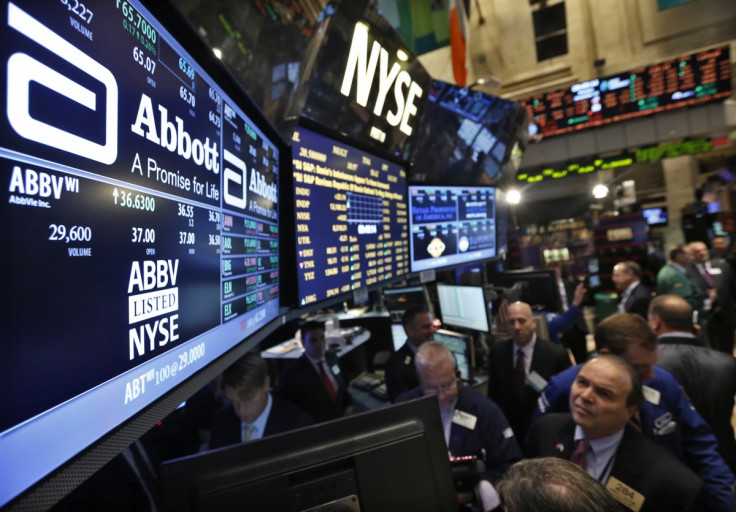 US stocks suffered losses as it battled weak corporate earnings, particularly that of Apple as the Dow Jones Industrial Average posted its worst declines since late February, dropping more than 1% on Thursday 28 April.
"The market had been losing momentum coming into the week as the tech stocks were coming in with weaker numbers," Quincy Krosby, market strategist at Prudential Financial, told CNBC. "Apple is in many different kinds of portfolios, it's in the Dow. When it takes a beating it's going to pressure markets," she added.
The Dow Jones fell 210.79 points, or 1.17%, to settle at 17,830.76. Apple extended its losing streak for a sixth day after billionaire Carl Icahn announce he had sold his stake in the company, citing the iPhone producer's inability to grow sales. According to MarketWatch, the company has been hit by worse-than-expected quarterly earnings, leading to a decline of 3.06% on Thursday (28 April).
The S&P 500 dropped 19.34 points, or 0.92%, to settle at 2,075.81. The Dow and S&P 500 closed the day within 3% of their 52-week intraday highs. Meanwhile, the Nasdaq Composite declined 57.85 points, or 1.19%, to close at 4,805.29. The tech-heavy index was over 8% below its 52-week intraday high.
According to CNBC, earlier in the session the indices attempted to turnaround their opening losses with the help of gains made by Facebook which settled up 7.2% at 116.73 after reporting quarterly earnings above expectations.
US stocks also attempted to shrug off pressure from declines in Japan's Nikkei 225 following the report by the Bank of Japan, which left its policy unchanged. CNBC reported that the Bank of Japan kept the pace of its asset purchase programme and maintained its 0.1% negative rate applying to some deposits. It also cut its inflation forecasts and delayed the timing for achieving its 2% price target by half a year.
"I think, in talking to investors, there's a real credibility question with the Bank of Japan," Chris Gaffney, president of EverBank World Markets, said. "Right now, it's more of the same, and that's why we're seeing a lot of sideways trading here."
The central bank's decision to remain unchanged on interest rates led the Nikkei 225 to drop 3.6%, while the yen rallied. The Shanghai Composite dropped about 0.3% and the Hang Seng closed up 0.12%. In Europe, stocks closed mostly higher, with the DAX closing 0.21% higher and FTSE 100 settling slightly up.
Gold futures for June delivery surged $16 (£10.95;€14.10), or 3%, to $1,266.40 (£866.90; €1,115.62) an ounce. Treasury yields traded lower, with the 2-year yield near 0.78% and the 10-year yield by 1.83%.
US crude oil futures posted its highest day since 4 November 2015, settling up $0.70 (£0.48;€0.62), or 1.54%, at $46.03 (£31.51;€40.54) a barrel.
© Copyright IBTimes 2023. All rights reserved.