The son of a billionaire jumped to his death from his apartment balcony following the collapse of the family steel business, an inquest has heard. Angad Paul, 45, jumped from the eight storey of the luxury building in London because he blamed himself for the decline of his family business Caparo which had gone through 450 job cuts due to the downturn in steel prices.
Paul's father, Lord Paul, founded the business in 1968 and it grew into a multi-billion pound enterprise. He took over his father's business in 1996 but had no real control over its day to day running.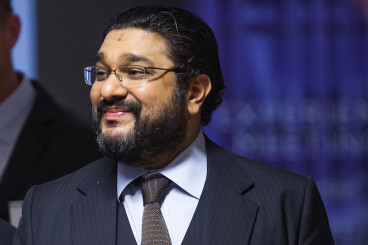 His wife Michelle told Westminster Coroners' Court that he had sold his four sports cars, felt responsible for the collapse of the firm and loss of jobs and thought he was unable to provide for his family. He was also worried about how people would think he was to blame for the company's failure.
"He had been the most balanced, calm clever person. But everything became catastrophic. He was paranoid. He closed the blinds and turned off his phone," she said.
She told the inquest that he had had a history of depression and had said he wanted to come off anti-depressant medication which he had been taking since 1999.
In concluding that he had committed suicide, coroner Shirley Radcliffe said the evidence suggested the failure of his business had taken its toll on his mental health.
The coroner said: "He was a very bright dynamic man, happily married with two children and a comfortable existence, he took his work responsibilities very seriously. He was clearly worried about the business. He had felt that it was his fault," The London Evening Standard reported.