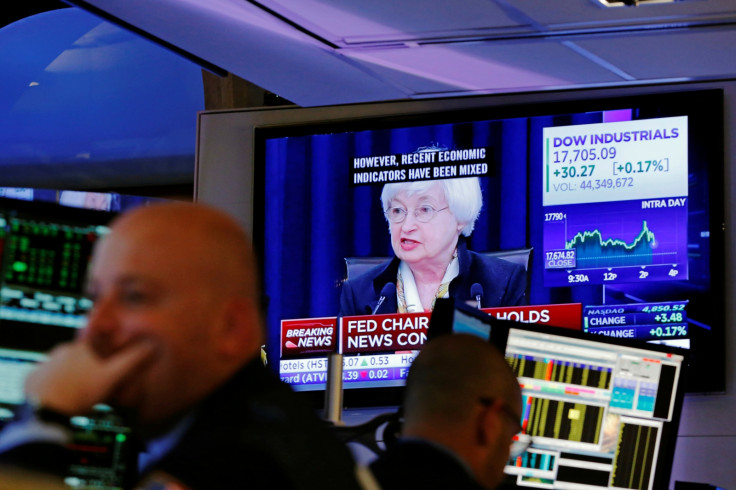 US stocks came off gains to close lower on 15 June for the fifth straight session following the remarks by Fed Chair Janet Yellen and the announcement that the Federal Reserve would delay enacting an interest rake hike. Six members have projected the Fed will implement only one rate hike in 2016, however, the expectation remains that there will be two.
"I don't think this was a good day at all for Fed credibility and it wasn't a food day at all for them generating confidence for monetary policy," Ward McCarthy, chief financial economist at Jefferies, told CNBC. "The impression they create is that monetary policy is just a drift. It's not clear it's being driven by the dual mandate and the decision-making is just knee-jerk."
CNBC noted that stocks initially held higher during Yellen's remarks and the Fed statement, but eventually closed about 0.2% lower.
The Dow Jones Industrial Average dropped 34.65 points, or 0.2%, to settle at 17,640.17. According to MarketWatch, a 1.7% drop in Intel Corp and 1.1% drop in Cisco Systems led declines in the blue-chips gauge.
The S&P 500 slumped 3.82 points, or 0.18%, to settle at 2,071.50. The index, which at one point was up 10 points, was dragged down by the utilities and healthcare sectors. The materials and consumer-discretionary stocks, however, ended modestly up, MarketWatch reported.
Meanwhile, the Nasdaq Composite slid 8.62 points, or 0.18%, to close at 4,834.93. According to CNBC, the tech-heavy index posted its first five-day losing streak since late April. The Dow Jones and S&P 500, on the other day, had not posted such a long losing streak since 11 February.
Analysts did not expect the central bank to raise interest rates in June in light of the disappointing May jobs report and upcoming Brexit vote on 23 June. "We are more concerned about Brexit now than we were about the Fed," Art Hogan, chief market strategist at Wunderlich Securities told CNBC.
Treasury yields dropped following the Fed statement release, with the 2-year yield hitting 0.67% and the 10-year yield near 1.58%. The US dollar index also fell about a third of a percent, with the euro by $1.126 and the yen by 105.9 yen against the greenback. The pound sterling was by $1.42. Gold futures, on the other hand, extended gains to briefly hit $1,300 (£916.04;€1,153.20) an ounce, ultimately settling up $0.20 (£0.14;€0.18) at $1,288.30 (£907.80;€1,142.82) an ounce.
US crude oil futures dropped $0.48 (£0.34;€0.43), or 0.99%, at $48.01 (£33.83;€42.59) a barrel. Oil briefly attempted gains after an EIA report revealed US crude oil stocks dropped 933,000 barrels.
Overseas, European and Asian markets closed higher. The STOXX Europe 600 and German DAX settled up 1%, while the Nikkei 225 was up nearly 0.4% and the Shanghai Composite ending more than 1.5% higher.