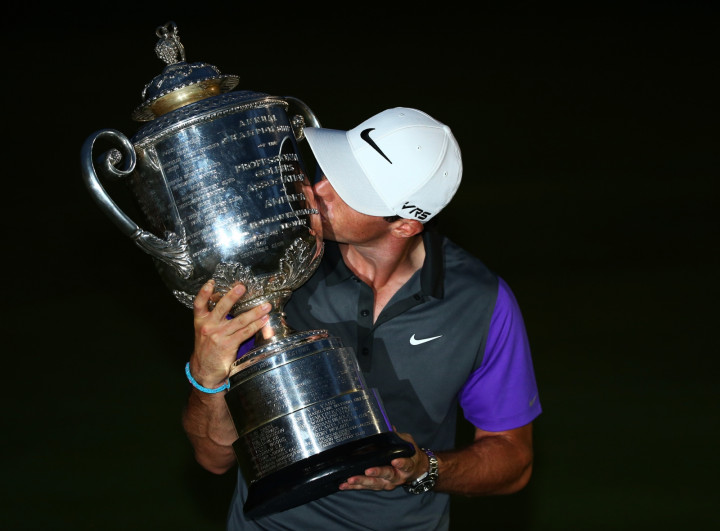 Rory McIlroy has won a second consecutive major championship after a thrilling conclusion to the US PGA Championship at Valhalla.
McIlroy, 25, celebrates the fourth major victory of his remarkable young career after recovering from a poor start to the final day where he surrendered his overnight one shot lead before enjoying a remarkable rally on the back nine to card a three under 68.
His one stroke lead was enough to secure victory ahead of Phil Mickelson who closed on 66 while Rickie Fowler and Henrik Stenson finished joint third.
Torrential rain ensured the final day in Kentucky was two hours late getting underway, setting up the possibility of a Monday finish had the contest stretched to a play off.
But the Northern Irishman's evening charge saw him secure victory and become the first man since Padraig Harrington in 2008 to secure back to back major championship triumphs.
The Open champion saw his one stroke lead wiped out as a five way tie between Bernt Wiesberger, McIlroy, Stenson, Mickelson and Fowler opened up.
At one point McIlroy fell three shots behind Fowler in six holes but summoned superb resilience and drive to claw his way back to the top of the pile after finishing the 10th hole with an eagle.
On Fowler's tail, he secured another birdie on the 13th and was able to re-establish his one shot lead for the first time since the third hole when Mickelson bogeyed on the 16th en route.
As the skies above Valhalla darkened, McIrloy took the decisve step in securing the championship as he secured another birdie on the 17th before making par on the final hole to lift the Wanamaker Trophy for the second time.