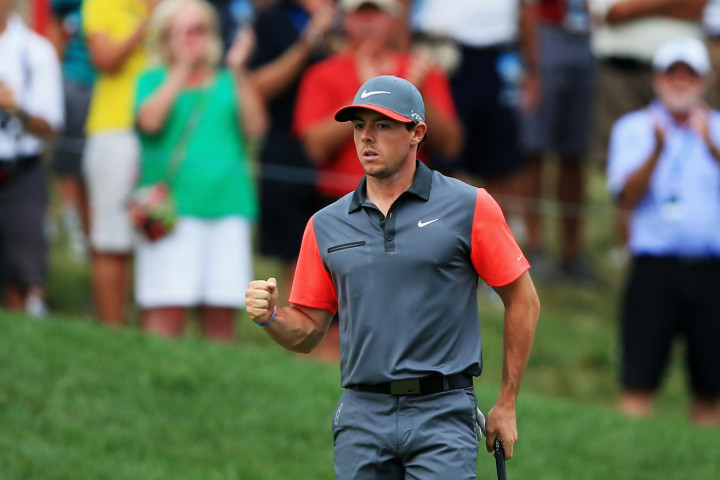 Rory McIlroy's pursuit of a second major in 2014 continued with a first-round 66 to trail leader Lee Westwood by one shot after the first round of the US PGA Championship at Valhalla.
Though Westwood shot his lowest ever major score of 65 to co-lead alongside American duo Kevin Chappell and Ryan Palmer, McIlroy - The Open champion at Hoylake last month - grabbed the attention with eight birdies in his round amid an ominous display in Kentucky.
Jim Furyk, Edoardo Molinari, Henrik Stenson and Chris Wood are among the other players on five-under level, with McIlroy, who suffered a double bogey on the 10th but remains on course to secure a fourth career major.
"I think one of the big things for me, especially in major championships is getting off to good starts and being right up there at the start," the Northern Irishman said. "I have been able to do that today, and hopefully I can continue to be up there the rest of the tournament.
"You see guys out there this morning shoot 5‑ and 6‑under par. You know that there are scores out there. There's opportunities. You got the par‑5s. You got a few shorter par‑4s. It's still receptive. There's definitely birdies out there to be had.
"Whenever you are confident and you have some momentum on your side, it's easier to do what I did today rather than if everything is sort of going against you and you are struggling for forum and you have a patch like that. It's not so easy to get on a birdie run again.
"I'm hitting the ball great, seeing good shots out there, holing putts. It's easier to get back in the right frame of mind after what happened on 10 and 11."
Tiger Woods, meanwhile, endured contrasting fortunes in the opening round, shooting a three-over round of 74 to leave him on the brink of missing the cut for the weekend.
Woods defied a back injury suffered at the WGC-Invitational to start in Valhalla, but despite not showing any obvious pain during his round, a spate of wayward tee shots and missed birdie putts leaves the 14-time major winner facing an uphill task on day two to reignite his challenge.
"I didn't play as well as I wanted to, and I didn't get a putt to the hole," the 38-year-old said. "That's not a good combo. I have the same opportunity as everybody else and just didn't get it done.
"The pin locations today were really tough. They had some really tough ones right on the corners that if you short‑sided yourself, you would have near impossible bunker shots."