In a small school in Methuen, near Boston, Massachusetts the sound every parent and teacher dreads rang out as gunshots filled the narrow corridor normally teeming with children.
However unlike many previous stories which begin in a similar vein, this is not another report about the latest Columbine or Sandy Hook tragedy. The shots fired were blanks, the school was closed and what was happening was an attempt to prevent similar tragedies in the future.
The gun was fired to test the first "shooter detection system" to be installed in a school in the US, in a move seen as a sad reflection of the increase in shootings which take place in or around US schools.
The system, which has been adapted from a system the US military uses in war zones, uses a combination of an outdoor acoustic system and 50 to 60 smoke alarm-sized detectors placed throughout the school in hallways, offices and classrooms. The system uses infrared cameras to detect muzzle-flashes.
The system will automatically detect gunfire using a network of sensors and will instantly alert authorities giving them a map of exactly where the gunshots are coming from.
Among those watching the testing was Massachusetts Democratic representative Niki Tsongas who said: "It is the responsibility of all of us to make sure our schools are sanctuaries for learning. From Columbine to Sandy Hook, unspeakable acts of violence have occurred in our schools, and gun violence is now a major concern for our children, our educators and our parents,"
School shootings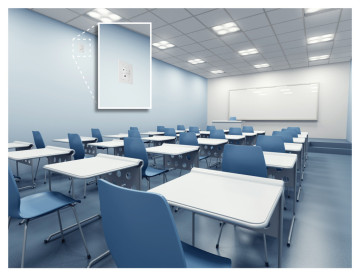 In June, the advocacy group Everytown for Gun Safety released figures showing that since the Sandy Hook shooting at the end of December 2012, there had been 74 shooting incidents at schools which resulted in 38 deaths and 53 injuries.
Previously schools in the US have installed metal detectors and security guards to try and prevent guns from getting into school buildings.
The new system, which is called the Guardian Active Shooter Detection System was demonstrated by authorities on Tuesday when the school was closed for the Veterans Day holiday.
This is the first such system to be installed in a school in the US, but according to Christian Connors, CEO of Shooter Detection Systems, the company is talking to the federal government in the US about its wider use.
Connors says a system like the one being used in the Methuen's school would cost between $50,000 and $100,000.