Usain Bolt may be facing fierce scrutiny thanks to his transatlantic partying marathon but, according to industry experts, the controversy will not affect the Jamaican gold medallist's marketability, nor is it likely to jeopardise his multi-million sponsorship deals.
Puma, Bolt's biggest sponsor, has supported him since 2003 – currently in a $10m-a-year deal – while, in 2012, he became the face of Richard Branson's Virgin Media, netting him £2m.
During Rio 2016, reports emerged that he was planning to marry long-term girlfriend Kasi Bennett after drawing the curtain on his Olympic career. However, last week it appeared Bolt was in no mood to be tied down just yet as he kicked off his post-Olympics 30th birthday celebrations in Brazil.
He has since been photographed partying with a bevy of women − including a 20-year-old Rio student named Jady Duarte, with snaps of them kissing shared via WhatsApp − and the fun continued in London. Just yesterday (25 August) he was seen partaking in a customary ritual of returning to his hotel at 5am, with a separate car on his tail, carrying yet another bevy of women.
Talented sport stars know merely winning medals won't fund the lavish lifestyle they grow accustomed to. Millions can be made with endorsement deals if you have a stand-out personality, level of influence and represent the values of the brand.
Any whiff of a scandal can leave a bad taste in the mouth of consumers and result in the loss of major deals − just ask Olympic swimmer, Ryan Lochte. Speedo USA is one of four sponsors to cut ties with the star after it emerged that he "over-exaggerated" claims he and his teammates were robbed at gunpoint in Rio de Janeiro on 14 August.
Unlike Lochte, Bolt doesn't have to worry about his bank account says Rod Kohler, managing director of Revolution Sports + Entertainment. He told IBTimes UK: "Ryan Lochte was a different situation. He has lost his endorsements because he was caught out lying. Usain Bolt has always been very open about his partying lifestyle, but keeps his personal life private. People will love him even more now."
He adds that Bolt's partying marathon shouldn't surprise fans because he is a rock star of the athletic world. "His lifestyle is part of his superstar persona. It's not a scandal and it won't affect his sponsorship. Global brands will still be clamouring to sign him up as an ambassador. What is more surprising is that he eats chicken nuggets when many athletes are purists and advocates for healthy eating."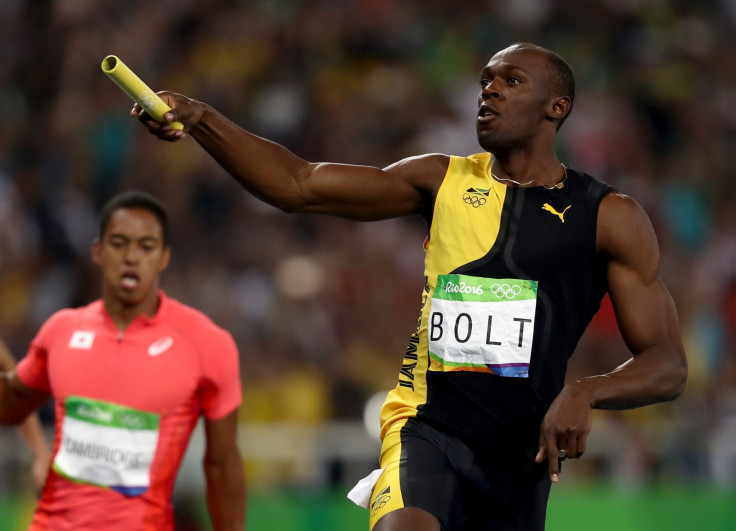 Misha Sher, Head of Sport & Entertainment at Mediacom, adds that while he may have ruffled a few feathers, Bolt's endorsement value will not suffer because his personality and charisma transcends sport. "He is a huge draw everywhere he goes because what he has achieved and the manner in which he did it is unprecedented," he explained.
"The reality is that most people won't care what he does in his personal life and at the moment, he is not married. Even if his behaviour is regrettable, there is nothing in it that will turn off marketers because they know the mass appeal is still very much there.
"The questions any brand will ask is, does the behaviour of the athlete compromise the value of the brand and what's the likelihood that it will impact our bottom line. I'm convinced that his partners aren't losing any sleep at the moment...not yet anyways."
However, Victoria Cook, business planning partner in media agency Mindshare, insists that while he has done nothing illegal, his public image may still take a knocking "It is too soon for any company to react to the news, so most brands will wait it out to see if the story has staying power," she said. "What might happen is stricter contracts around any future behaviour."
Meanwhile, Bolt has maintained his silence on the drama. His last tweet was on 22 August when he accepted Prince Harry's request for another head-to-head encounter on the track.