Following a record-breaking stint at the 2016 Rio Olympics Usain Bolt continues to dominate headlines thanks to his off-track antics, and now fellow Olympian Anthony Joshua has weighed in on cheating controversy.
Bolt kicked off his 30th birthday celebration in Brazil by enjoying the company of three different women − including 20-year-old Rio student named Jady Duarte, who he was snapped kissing − during a rumbustious weekend of partying.
His racy antics may have gone unnoticed had it not been for his reveal – mere months ago – that he was in a long-term relationship with girlfriend Kasi Bennett; his greatest supporter during his quest for the unprecedented 'treble'.
As the fallout continues, Joshua has admitted that he would hate to be in Bolt's shoes right now. The British-Nigerian World heavyweight champion posted a picture of a Brazilian newspaper with pictures from Bolt's night with Duarte splashed on the front page on his snapchat with the caption: "Better him than me. Brasil can do that 2 a brother. Shhheeeeeeettttttt"
Meanwhile, the world's fastest man is showing no signs of slowing down as Bolt added to his tally with another mystery lady on a second night out in London. On Tuesday (23 August), the duo were pictured in a taxi on the way to a club. She pulled out all the stops for their outing in a revealing black dress and black heels. The duo returned to his London hotel in the earlier hours of Wednesday, along with a taxi-full of other women.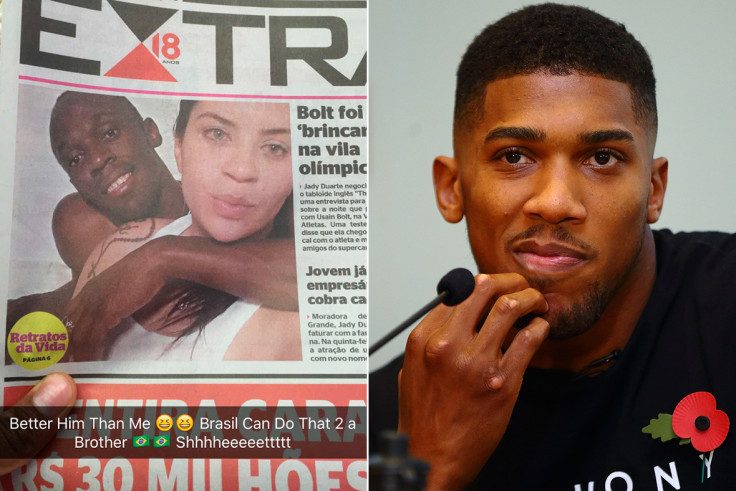 The night before he reportedly persuaded two women he met at celebrity haunt Cirque Le Soir to come back to his hotel for an after-party.
The pictures come amid reports that his relationship with Bennett is not in jeopardy. According to the athlete's sister, Christine Bolt-Hylton, the couple are serious and while his other half is angry, they will not split.
"I'm sure Kasi will be used to it by now. She is used to seeing pictures like this," Bolt-Hylton said. "People ask for pictures with him and he is always willing to have pictures. Bolt-Hylton added that she doesn't think anything happened between him and Duarte. "Kasi was definitely OK with the party pictures. The pictures with the girl he should definitely apologise for."